This is the state-of-the-art technology developed by OSAKA SMEs. At the MOBIO Tech Hall, you can discover amazing technologies! 
.
FUSEHATSU KOGYO CO., LTD. https://www.m-osaka.com/en/exhibitors/483/
.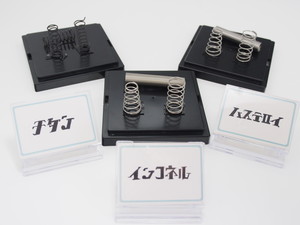 Left: Heat resistant springs
Right: Product line-up
.
A spring is a "restoring force" that deforms when force is applied and returns to its original shape when force is removed.
Above all, FUSEHATSU mainly manufactures coil (winding) springs that have three characteristics: compression, tension and torsion.
Recently FUSEHATSU has begun producing "heat resistant springs" using Inconel, Hastelloy, and titanium, which are resistant to high temperatures and difficult to process. A coil spring is ideal for use in high temperature areas. Prototype production from single piece is available at FUSEHATSU.