MOBIO booth No. : North facility 1st floor 4
OHSHIN CO., LTD.
Product line
IH compatible pasta plates
IH compatible steak plates
IH compatible cooking bowls
Description of business
Ohshin manufactures IH compatible plates that can be used in microwaves or on gas stoves, lightweight Japanese-style metal plates for steak, aluminum products and other products even for the commercial kitchen. it also manufactures work shoes suitable for the kitchen and other products.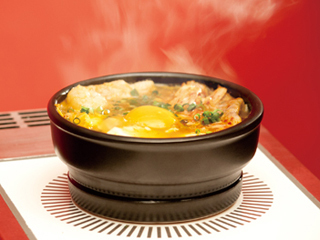 Products and Technologies
OHSHIN's IH compatible ware serves an appetizing and sizzling taste at fast food market
A state-of-the-art technology converted traditional wares to high-tech products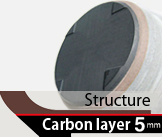 An OHSHIN's exclusive technology for IH and electric heaters transforms aluminum wares and earthenware to value added products by mounting thermal storage (made of carbon or steel).

Because thermal conductivity of IH compatible ware with carbon thermal storage on bottom is high, it is distinctive that a temperature spreads evenly and a partial burning at a ware is avoided.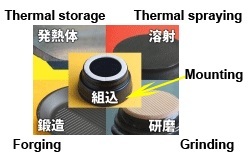 Helps cooking effectively and safely at steak plates and pasta plates

Consult OHSHIN about suitable commercial IH cookers for the compatible wares
"Voices of commercial chefs" created convenient products
IH compatibility technology assists food service industry
●A thermal storage to mount directly
The storage transmits temperature quickly and the heated earthenware maintains food hot to the last piece!
A pasta plate: Pasta source is warmed on the plate though a plate fringe doesn't get hot. It improves cooking efficiency.
A stake plate: On the stake restaurant side because of lighter weight to carry! It doesn't burn and a high thermal conductivity and longer thermal storage assists commercial kitchens.

●A thermal storage sandwiched between two earthenware
It improves thermal storage characteristics and provides long-lasting sizzling at customer's table with decorative look.

"WANTED" Partners! New Technology!
Creating evolutionary kitchen equipment to meet the needs of the expanding foodservice industry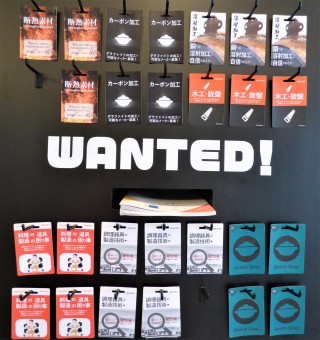 With the spread of eat-in service, in-store cooking at supermarkets and convenience stores has become commonplace, revitalizing the foodservice industry. Furthermore, the industry has continued to change, with the widespread use of electric cooking equipment and the ongoing systemization and manualization at cooking flow.
In order to create more efficient equipment responding to industry trends, OSHIN seeks a wide range of technologies. Interested companies, please feel free to contact OSHIN.

*Carbon processing: Processing of graphite
*Thermal spraying: Thermal spraying on copper
*Timber processing: Timber processing by use of STEP file 3D CAD
*Insulating materials: Materials that can be used near food (180 to 450 degrees C)
*Cooking utensil manufacturing technology: small lot production
The" Magical" brand cookware for all household heat sources
Say goodbye to burning and hello to perfectly cooked stew and other pot dishes.
Equipped with a carbon bottom, the Magical(R) Donabe combines the quality of earthenware with the efficiency and even flow of induction heating up to 3KW type.
The Magical(R) Donabe is a treasure for the kitchen, working also with gas, microwave oven, radiant heater, halogen heater, sheath heater and other of cooking heat sources.


Corporate Profile
Corporate name

OHSHIN CO., LTD.

Address

2-5-25 Kawada, Higashi-Osaka City, Osaka, 578-0905, Japan

President

Takeshi Fujita

Founded / Established

2003 / 2009

Phone

+81-72-964-0066

Fax

+81-72-964-0206

Company URL

Capital

8,000,000 yen