BIG DAISHOWA SEIKI CO., LTD.
MOBIO booth No. : North facility 2nd floor 126
BIG DAISHOWA SEIKI CO., LTD.
Product line
Tool holders (precision mechanical holding tools)
Sensors (precise measuring devices)
RF-ID systems
Description of business
Big Daishowa Seiki is Japan's leading manufacturer of "tool holders," an essential accessory for manufacturers the world over. The company's ability to develop BIG brand products and new technology is acclaimed worldwide.

The company's customers require reliability and peace of mind. The company has long lived up to customer expectations in terms of high-quality and high-precision products no matter what their needs. In addition to tool holders, the company now also develops sensors and RF-ID systems, which are crucial for post-processing measuring, thereby offering customers total support for their production sites.

The company"s corporate philosophy is based on harmony between the environment and its factories, between communities and its employees, and between society and its corporate activities. It aims to develop an attractive enterprise by helping all sorts of people achieve their dreams and find fulfillment in life.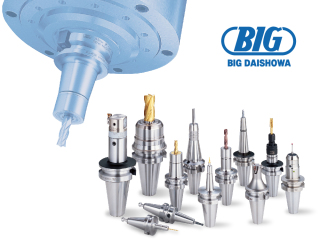 Products and Technologies
Mega Chucks
Precision ground and balanced for high speed machining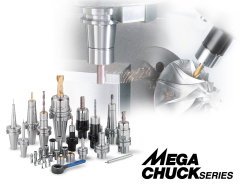 At Big Daishowa Seiki, their mission is to always deliver top-quality products based on superior technology.
They are dedicated to building on their excellent human resources to achieve quality as a united group. This applies not only to products, but to quality in all their work. This is the attitude that they have named "United in Quality,Etheir permanent motto.

It was from this concept that the Mega Chuck series was born. Capable of rotation speeds of up to 40,000 rpm, the Mega Chuck series achieves both high rotation speed and high precision.

They offer many other products as well such as for boring and tapping for a variety of cutting operations.
The Full Cut Mill
Indexable Insert Endmill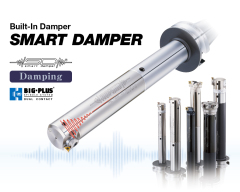 The Full Cut Mill is a Slowaway IC equipped endmill cutter that incorporates sharp, resilient cutting power suited to solid end milling.

It provides precision cutting in two rake angles: in the diameter and axial directions. The uniquely shaped disposable tip does not easily chip and keeps the load on the machine tool to a minimum. This means that your machinery and tools will both have longer service lives.

In addition to a general straight shank, the Full Cut Mill series includes an integrated extra rigid bottle taper shank and an integrated HSK shank. The cutter diameters range from 16 to 50 millimeters.
IC Code® System
The IC Code® System is a way to identify items automatically without contact.

Data is loaded into a smart card, which is then read using wireless technology. When the smart card is inserted into the machine tool holding tooling, the work process is handled automatically, preventing errors such as attachment to the wrong machine tool. The offset data is also downloaded and the location of the equipment is tracked.

The IC Code® System is has a wide range of applications including assembly lines for automobiles and home electronics as well as parking lot management.

The smart car is controlled using 20-digit numbers and can be read from as far away as 70 centimeters using an antenna connected to a computer. Because the wireless smart card is not sensitive to dirt, unlike barcodes, it is expected to play an important role in automating new fields.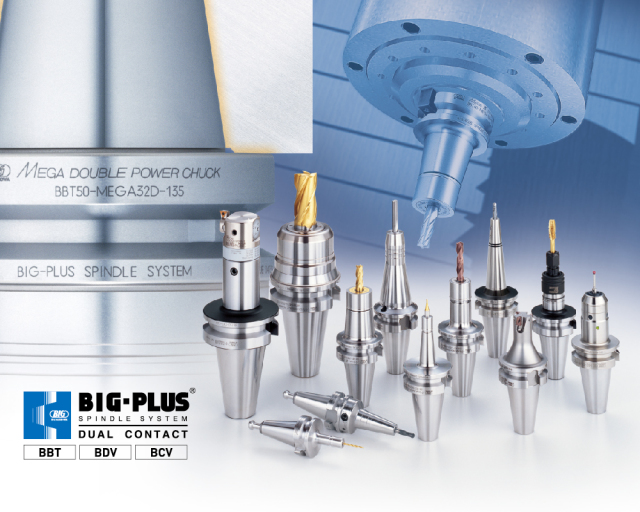 Corporate Profile
Corporate name

BIG DAISHOWA SEIKI CO., LTD.

Person in charge

Export Dept. Executive Offcer General Manager

Shigeki Iseki

E-mail

Address

3-3-39 Nishi-Ishikiri-cho, Higashi-Osaka City, Osaka, 579-8013, Japan

President

Joji Nakatani

Established

1967

Phone

+81-72-982-8277

Fax

+81-72-982-8370

Company URL

Japanese (http://www.big-daishowa.co.jp/)

English (http://big-daishowa.com)

Chinese (http://big-daishowa.cn/)

Capital

95,530,000 yen

Major account

Manufacturers of automobiles, aircraft, construction machinery, ships, consumer electronics

Overseas facility

Asia

Europe

NorthAmerica