This is the state-of-the-art technology developed by OSAKA SMEs. At the MOBIO Tech Hall, you can discover amazing technologies!
WATANABE MFG. CO., LTD.: Atomizer - Liquid Jet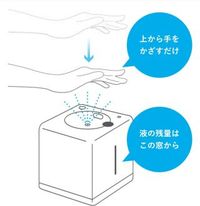 A cordless Liquid Jet can be placed at anywhere. When a customer holds its palm above the device, a touch-free, sensor-activated atomizer instantly start moistening to assist disinfecting palms or fingers.
"Liquid Jet" is the first finished product from Watanabe Manufacturing, who has manufactured prototypes long time as an industry specialist.