Fukuchi Metal has a solid history of producing numerous products with cold forging, primarily as intermediate products for automotive components.
Impressive catch, "Strike while the iron is COLD" is their corporate catch phrase. They have promoted to transmit information outward based on its concept by two pole medias, WEB and the trade show. Fukuchi thinks sending information via several channels could cause the synergistic effect.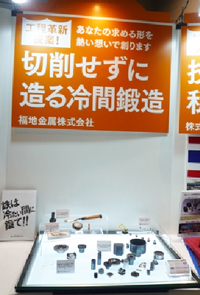 Display at SME Fair in Kaisai 2013
●Participated in the show searching for the new market
"For next five years we could survive by manufacturing automobile components and might face zero order status. So I wished the young staffs would find another market by themselves to establish New Fukuchi."
Fukuchi continues "I have left all preparations to the young staffs expecting to search for the potential market to be in five years. Due to time constreint they could not fully prepare however even the unexperienced staffs sincerely and seriously explained the products and guided the visitors at the booth. As a result they could collect 54 business cards and were successful to have welcomed one of them at the factory after the show."
Preparation seminar at MOBIO hall Explanation at the booth
●The "Trade Show Effect" will be seen someday and somewhere
"The visitors might remember our booth although they had not exchanged business cards with us. Actually there are several cases the visitors sent inquiries later on via home page. I think such an effect is considered to be the trade show effect." And Fukuchi maintains their permanent booth at MOBIO hall expecting such an effect.

By participating the trade shows thay have come to notice that thet show is "very important opportunity to learn the user's needs". "It is essential to receive input from outside. We will learn hint and valuable information of feasible market from the show visitors" says Fukuchi.
Quite often they received unexpected questions by the visitors at the show. Those questions may create future business for Fukuchi. And he is motivating the young, "Let's become such a company that will meet the requests others could not reply."
Interviewed on Jun. 26, 2013