Find out why and how presidents of MOBIO exhibitors have started
"INNOVATION and CHALLENGE" through the special interview.
No.21 is Mr. Tsuchitani of*** TSUCHITANI KINZOKU CO., LTD. (Read more) ***
- Commercial gas stopcocks, Commercial gas burners, Gas valves
Tsuchitani challenged and proudly received the first certification of JIA certification in Japan, although some of large companies failed to comply with. Since then he has produced Japan-Quality commercial cooking devices competing to European cooktops.
"It requires cutting edge technology at product development and manufacturing stages to ensure the safety of commercial usage. As a Japanese craftsman I strongly wanted to create something totally new", says Tsuchitani.
He is developing "A Commercial Hand-Held City Gas Burner", that will be the first in Japan. Low pressure gas is burned and emitted by the electric blower continuously. It will be used at various markets, such as commercial cooking, industrial heat trimming, die spot quenching and etc.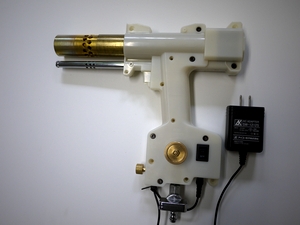 His challenge continues to burn items from an opposite direction; top to bottom. " It is my belief that good product speaks itself. And I will develop such a product", says Tsuchitani.
***
View his message and valuable hints (^^) to you in Japanese: Click here Meet the President No.21
and
Go to other Standing Exhibitors: Click here List