Event: (Mar. 22) Web Cafe Meeting by MOBIO BACKUPS with an exhibiter via YouTube Live (in Japanese)
Activities
2022/03/01
Event: (Mar. 22) Web Cafe Meeting by MOBIO BACKUPS with an exhibiter via YouTube Live (in Japanese)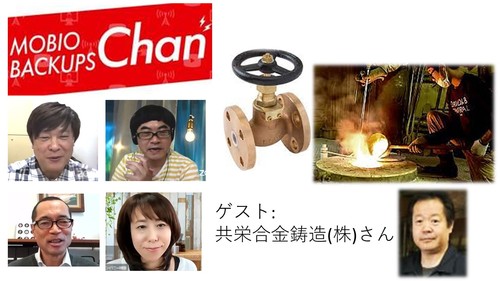 ◆◇ Web Event in Japanese ◆◇
As a countermeasure of COVID-19, MOBIO hosts an internet meetup, Web Cafe Meeting in Japanese. MOBIO BACKUPS, an organization of designers exhibiting at MOBIO, is streaming a bustling and thought-provoking video via YouTube LIVE.
Date : March 22 (Tue) 12:15 - 13:00
Admission : Free
Web tool: YouTube Live https://www.youtube.com/c/MOBIOvideo 
Please stay in touch with Japanese designers to develop communication tools.
Speakers:
●Guest: KYOEI ALLOY CASTING CO., LTD. https://www.m-osaka.com/en/exhibitors/506/
      Bronze valves and parts
●Backups: An organization of designers exhibiting at MOBIO
1) Parabola.Design Spacial architect
2) OFFICE NAKAJIMA INC. Advertisement production
3) YUKI COMPANY INC. Website design

4) FAYCOM INC. Branding of companies and businesses