Event: (Nov. 30) Web Cafe Meeting: MOBIO BACKUPS talk with an exhibiter in Japanese
Activities
2021/11/16
Event: (Nov. 30) Web Cafe Meeting: MOBIO BACKUPS talk with an exhibiter in Japanese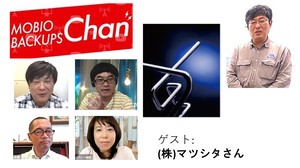 ◆◇ Web Event in Japanese ◆◇
As a countermeasure of COVID-19, MOBIO hosts an internet meetup, Web Cafe Meeting in Japanese. Team member of MOBIO BACKUPS, an organization of desginers exhibiting at MOBIO, ask a lot of questions to a guest speaker.
Date : November 20 (Tue) VIDEO to release at 09:00

Admission : Free
Web tool: YouTube https://www.youtube.com/c/MOBIOvideo 
Please stay in touch with Japanese designers to develop communication tools.
Speakers:
Guest: MATUSITA CO., LTD. https://www.m-osaka.com/en/exhibitors/001/

Metal display hangers, Metal displays, Metal display fittings
Backups:
1) Parabola.Design Spacial architect
2) OFFICE NAKAJIMA INC. Advertisement production
3) YUKI COMPANY INC. Website design

4) FAYCOM INC. Branding of companies and businesses