GLASS FIBER KOKEN CO., LTD.
MOBIO booth No. : North facility 1st floor 61
GLASS FIBER KOKEN CO., LTD.
Product line
Glass Fiber Tapes for parking lot line marking
Glass Fiber Tapes for tennis court line marking
Glass Fiber Support Wires on radio antenna (Debeglass wires)
Description of business
Glassfiber Koken Co., Ltd. manufactures line marking tapes for parking lots and grounds using glass fiber, as well as radio antenna support wires. The tape-type "Boo-boo Line" can be easily used to draw clear lines on to any places such as old asphalt road, gravel road, and grass road.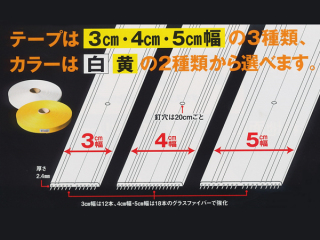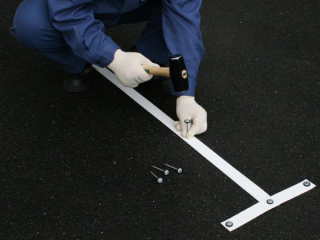 Products and Technologies
"Boo-boo Line" for parking lots
Easy installation by using nails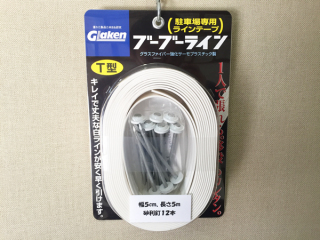 ●Glass fiber-reinforced tape
Unlike baked coating and normal paint, "Boo-boo Line" is simply hammer-nailed to parking grounds. There is no need to move parked cars or to use big machines.
Also, it can be used on different ground surfaces, such as gravel, asphalt, concrete, and grass, simply by changing the type of nails.

The glass fiber-reinforced tape has enough durability against extreme weathers for 10 years.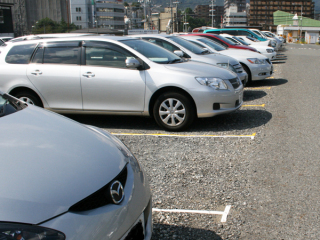 ●Clear marking on gravel road
This tape can be an alternative for sign ropes on gravel roads,
which eliminates the problem of poor visibility and durability.
Super Line Tape
Line marking tapes for tennis courts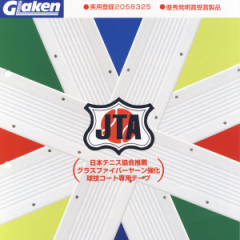 ●High-quality tennis court lines
Super line tape is used in tennis courts and athletics track fields, and its tensile strength is more than 5 times stronger than normal vinyl tapes.
It can apply highly accurate court line as its elasticity is less than 2%, and it does not turn stiff even at -32°C.

This line tape is most commonly used in Junior High/High Schools nationwide in Japan.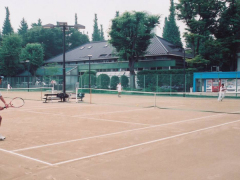 ●Recommendation
Super line tape is the only line marking tape recommended by Japan Tennis Association and is recommended for regular matches.

It is also used in several tennis courts in a popular training camp located in Village of Lake Yamanaka, Yamanashi Prefecture, in which skilled tennis teams practice. It may even be used by promising young players.
Debeglass Wire /Rope
Light and Durable, rust-proof, non-elastic wire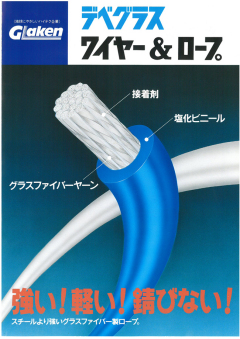 ●A branch line for supporting radio antenna poles
Debeglass wire is a product that eliminates faults of steel wires and is light and durable because it uses glass fiber for its core.

It is appropriate for outdoor use as it is rust-proof and is non-elastic, and therefore can be used for many years.

Debeglass wire is commonly used in branch lines to support radio antenna poles.
●Highly resistant to corrosion
Salty sea wind can easily cause steel to rust, but Debeglass wire can be used near the sea as it is rust-proof.

As it can also be used under water, Debeglass wire is often used in canoe race courses.
Corporate Profile
Corporate name

GLASS FIBER KOKEN CO., LTD.

Address

4-8-47,Kanou, Higashi-Osaka City, Osaka, 578-0901, Japan

President

Masami Itakura

Established

1975

Phone

+81-72-963-1923

Fax

+81-72-963-1925

Company URL

Japanese (https://www.glaken.co.jp/)

Capital

24,000,000 yen