MOBIO booth No. : North facility 2nd floor 121
SHINKO KOGYO INC.
Product line
Shaftless screw conveyors
Description of business
Shinko Kogyo delivers the world's most advanced transport technologies, including shaftless screw conveyors. The spiral screw, a key component, is the patented original product. Shinko Kogyo is the only company in Japan that offers in-house integrated services, from design and manufacturing, to after-sales service. It delivers quality products to maximize customer satisfaction with a quick turnaround time.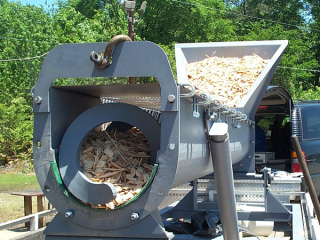 Products and Technologies
Materials transported on conveyors will not become entangled or stick when using the original shaftless screw conveyer.
Shinko's shaftless screw conveyor can help solve your transport problems!
●The patented screw flight
The screw flight is in-house production based on its patented technology No.5800013 in Japan. The high quality and reliable Made-in-Japan screw flight is available to your needs.

●Only company in Japan that designs and manufactures the shaftless screw conveyor (from bending and welding to assembly)
 Support for specific properties, and product explanation in the field using a demo unit.

●6 benefits that the screw conveyor can offer because it is shaftless
1) No adhesion or obstruction of the shaft
2) Materials can be conveyed on steep gradients (0 to 90 degrees)
3) Versatile connection between equipment
4) Low rotation speeds and low noise levels with rotation on a resin liner
5) No odors or spills because the conveyor is completely sealed
6) Single conveyor can transport materials for long distances (32 m)
Shinko Kogyo's originally-designed shaftless screw conveyor
Six benefits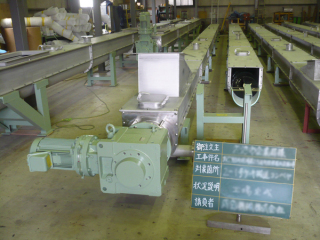 1) Conveyed materials will not become entangled or stick
There is no danger of obstructions due to adhesion of materials to the shaft. Residue and pulper residue can be easily transported.
2) Materials can be conveyed on steep gradients
It is possible to convey materials on gradient angles of 0 to 90 degrees. Materials can also be conveyed vertically, and the conveyor can be installed in narrow spaces.
3) Versatile connections are possible.
There are no limits to the types of connections between equipment that have no bearings at the conveyor terminal end. The layout of the conveyor can be vertical, horizontal, and diagonal.
4) Low noise
Noise levels are low when materials are conveyed with low rotation rates on a resin liner. There is reduced wear on resin liners as conveyed materials become lubricants (self-lubricating).
5) Completely sealed
There are no issues with odor or spills of conveyed materials. Labor for daily maintenance and cleaning is greatly reduced.
6) Materials can be conveyed long distances
One cantilevered screw can convey materials for a distance up to 32 m. It is not necessary to adjust belt tension, which greatly reduces daily maintenance.
Japan's only spiral design and manufacturing
Delivering the high-quality that is synonymous with Japan, with a quick turnaround time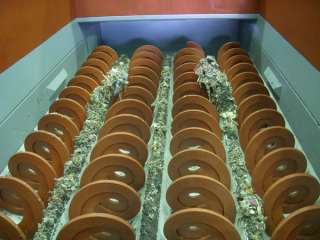 1)Designed and manufactured in Japan
Shinko Kogyo uses high-quality, Japanese-manufactured spiral materials. In addition, it is also able to support specific properties in line with your needs, offering consultations on design and quick responses for estimates. Different layouts for the conveyor are available, such as the positioning of pipes for deodorizing and input/output ports for conveyed materials.

2) Substantially maintenance-free
Maintenance consists of visual confirmation from the access panel for servicing only. Complicated maintenance required for other methods, such as confirmation of belt tension and temperature measurements of bearings, are not necessary.

3) Claim rate of 0.006%
Shinko Kogyo's shaftless screws are individually welded in factories in Japan by skilled welders, which means that there is no fear that screws will break.

4) Demonstrations in the field
Demonstrations can be performed using a 6-m demo unit upon request in Japan. Customers can view the actual equipment from the input to the discharge of the transported materials as the performance of the shaftless screw conveyor is introduced.
Corporate Profile
Corporate name

SHINKO KOGYO INC.

Address

4-4-18, Nagata Naka, Higashi-Osaka City, Osaka, 577-0013, Japan

President

Tsuneo Goto

Founded / Established

2002 / 2002

Phone

+81-6-6744-8889

Fax

+81-6-6744-8988

Company URL

Japanese (http://www.kk-shinkokogyo.co.jp/)

Capital

10,000,000 yen