MOBIO booth No. : North facility 2nd floor 134, 135
SIMOTEC CO., LTD.
Product line
Mechanical hinges
Magnetic parts
Heat protection parts
Description of business
SIMOTEC CO., LTD. has three core technologies of mechatronics, magnets and heat. They are a manufacturing company that handles everything from design to manufacturing and sales. They integrate theoretical designs created by engineers with accumulated actual data, and provide the most appropriate solutions for everything from prototypes to delivery. They also handle processing for various kinds of products and small lots.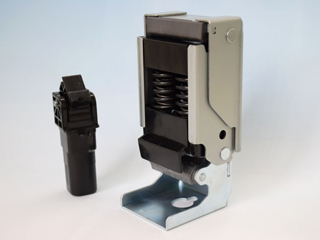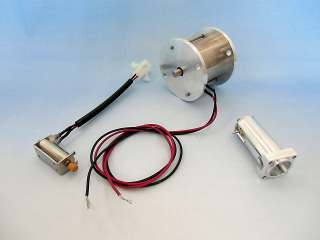 Products and Technologies
Module of three technologies
Mechatronics + Magnets + Thermal = ∞ (Infinity)
SIMOTEC has development and design technology for three technologies (mechatronics, magnets and thermal). Design, manufacturing, and delivery (both within Japan and to other countries) in all fields are possible.

(1) Mechatronics field: Japan's market leader of mechnical hinges for OA equipment.
(2) Magnet field: Solutions based on magnetic field analysis.
(3) Thermal field: Thermal analysis simulation through model production.

Meeting the market needs by creating modules in three fields.
Hinges with magnetic sensors, speed sensors, heat dissipation and heater units, etc.

- Verification and analysis -
Proposing the best solutions
1)Accurate ascertainment of needs
Convert information from sensuous use application and specifications
2)Transformation, verification
Turning information into numerical parameters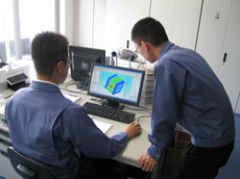 Mechatronic design
* Integration of theoretical design and actual data.
* Handling everything from discussions and verification within and outside the company to product delivery

Magnet design
* Adding technological data to 3-dimensional simulation software analysis and designing the most appropriate magnetic circuit.
* Accumulating examples of magnetic field analysis technologies and proceeding with putting them into practical use.

Thermal design
* Creating efficient designs through detailed and accurate thermal analysis.
* Controlling heat and realizing highly effective equipment functions.
Small actuator: Transforming electrical energy into linear reciprocating motion
This is a magnet steerable linear actuator that combines magnets and coils.
The operating principle is different from solenoids, which use the suction power of electromagnets and electromagnetic force (Lorentz force) is used. Because reciprocal motion is available by simply switching the electrical current, application for various uses is possible. Customization is possible for various products such as a push-pull type, a bi-stable type or a single-stable type. It can be used in various products such as small vibrators, linear control actuators and switcher mechanisms.

Features
* Direct acting type that conducts linear reciprocating motion
* Fast motion, fast response
* Large thrust can be obtained while saving power.
* Fast motion of 100Hz or more is possible, depending on the conditions.
* Thrust that is proportional to electric current value can be obtained.

Taking advantage of mechatronic technology
Hinges that support joint portions
OA equipment, such as computers and printers, etc repeatedly conducts opening and closing movements. Hinges have functions of supporting those joints and smoothly stopping covers and thick plates at the desired position (angle).

♦ ADF hinges
These correspond to heavyweight covers, fit to the product needs, such as adjustable angles and dumper function features.

♦ Small lightweight hinges
Suitable for lightweight plates for complex machines. Opening and closing of the cover automatically stops within a range of 30 to 60 degrees. Manufacturing is possible even when the weight or left-to-right balance differs. They also correspond to manuscripts of different thicknesses from copy paper to book type.

♦ Tilt hinges
These are hinges for products that have multiple functions. They have a small and lightweight simple design and light operability, and therefore they correspond to various types of products.

Patent, ISO9001, ISO14001