FUJI ELECTRONICS INDUSTRY CO., LTD.
MOBIO booth No. : North facility 1st floor 56
FUJI ELECTRONICS INDUSTRY CO., LTD.
Product line
High and medium frequency heat treatment services
High frequency induction heating devices
Transistorized inverters
Description of business
Eco-friendly hardening technology IH treatment ( Induction Heating Treatment) Being experts in this field, Fuji Electronics is always pursuing leading-edge technologies and taking challenges toward a low-carbon society.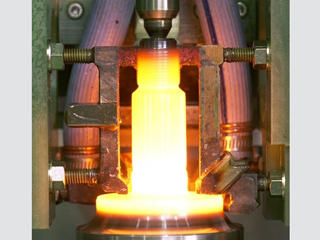 Products and Technologies
CFD Project - The Cube Fast Flexible Fine Delivery Project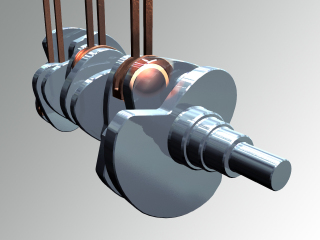 ● Contact us when you've got troubles such as:
Immediate pilot trials required
Increased demand surpassing your production capability
No instant hardening job available





● Fuji offers High Frequency Induction Hardening Service
1) Quick Delivery! (Next day delivery in Japan)
Capable to delivery mass-produced work pieces and some of non-mass produced work pieces on next day basis.
2) Quick Response!
Capable to answer to any inquiries, RFQ and new project consultation in two hours by 4 PM weekday.
3) Reliable!
Capable to provide additional processes; such as pre-heat treatment, machining (pre and after), distortion straightening, shot blasting and painting.
Fuji is here to meet customer needs with their technologies.
IH hardening with great environmental advantages (※IH: Induction Heating)
・Design and sale of hardening equipment using IH technology

Appreciation of our technologies ・The number of patents and other intellectual property rights amounts to 168 as of April 1, 2011.
・They enjoy considerable support from major companies in automobile, machine tool, construction equipment and other industries. They have shipped their products to 20 foreign countries.

The key to precise hardening technology - proprietary semi-open coil
・A uniform hardened layer is formed as necessary even on parts of peculiar shape. (Parts of peculiar shape: axis portions of constant velocity joint, crankshafts, etc.)
・Fatigue strength and thermal torsion strength of the treated parts are improved considerably.
・The treatment takes little time, which results in energy saving and higher work efficiency.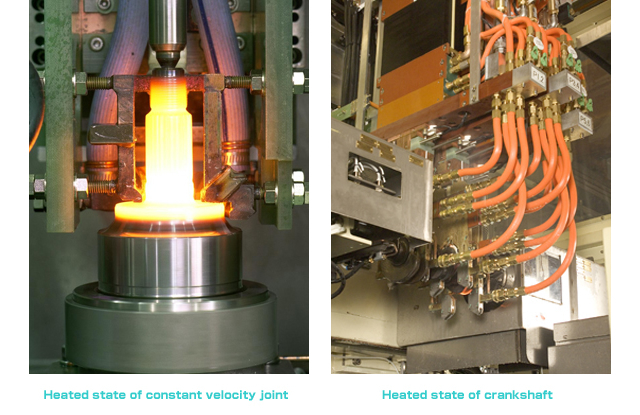 Large-size immersion quenching machines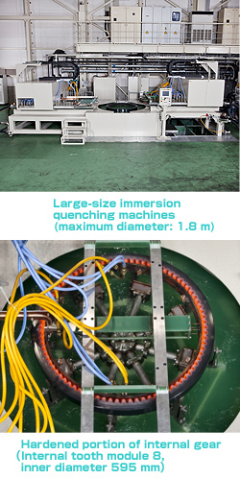 The shift from carburizing to IH hardening contributes greatly to environmental protection through reducing CO2 emission, preventing generation of hazardous substances, etc.
However, heat treatment of idlers, rollers, swing bearings and other large components of construction equipment depended previously on carburizing because of the treatment specifications. Their company has achieved sufficient accuracy and high productivity for such large components of construction equipment through combination of short-time high-output heating using semi-open coils, and cooling techniques.

Dip spray quenching method is one of technologies that make possible high-quality treatment without resort to carburizing. As soon as heating is completed, a work piece is immersed in cooling fluid, and the coolant is sprayed from the jacket in fluid. This prevents penetration of air bubbles, thus ensuring a uniform hardened layer without soft spots. Furthermore, conditions of the hardened layer can be precisely adjusted via control of the cooling fluid temperature and agitation speed. Using this technology, we achieved substantial improvement of work piece quality and mechanical properties.
FUJI-ELOMAT – Inverter with conversion efficiency of 95%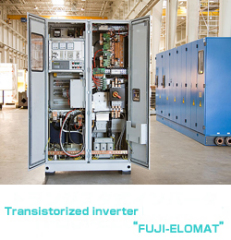 Due to adoption of parallel resonant circuit, the transistorized inverters FUJI-ELOMAT by Fuji Electronics are free of various drawbacks inherent to series-resonant type transistorized inverters. These inverters feature a stable low-voltage output comparable to that of the household wall outlet, high-efficiency power conversion, and support for multiple simultaneous hardening processes.

In addition, the inverters feature the wide frequency range of 1 kHz - 120 kHz, 50 kHz - 600 kHz and can be used for any type of work piece and hardening depth, which eliminates the need in multiple converters for different hardening specifications.

Moreover, FUJI-ELOMAT offers excellent frequency conversion efficiency of 95%, which is the top class in the industry. The higher is frequency conversion efficiency of the inverter, the higher is also efficiency of heating devices; besides, heat generation caused by electrical energy loss is suppressed, and energy consumed for cooling can be saved.

Actually, our customers, who replaced their vacuum tube oscillators or thyristor oscillators with FUJI-ELOMAT inverters and switched to hardening technology proposed by Fuji Electronics, are enjoying dramatic energy saving about 80%.
Corporate Profile
Corporate name

FUJI ELECTRONICS INDUSTRY CO., LTD.

Address

6-71, Oibara, Yao City, Osaka, 581-0092, Japan

President

Hiroko Watanabe

Established

1960

Phone

+81-72-991-1361

Fax

+81-72-991-1309

Company URL

Capital

80,000,000 yen
Patent, Design Right, ISO9001, ISO14001, Eco-friendly