MOBIO booth No. : North facility 2nd floor 106
TEIKOKU CHUCK CO., LTD.
Product line
Mechanical clamping devices
Power chucks
Machining center jigs
Description of business
Since their founding in 1926, Teikoku Chuck has been a trailblazer in Japanese chuck manufacturing. In addition to establishing the domestic production of scroll chucks, they have lead the industry since 1969 in such areas as the development of a design chuck for mass produced automobile parts. As the number one company in terms of product line-up and market share, they are determined to continue in their role as an industry leader.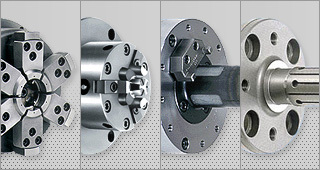 Products and Technologies
Design Power Chucks for Holding Mass Produced Workpieces
SOUL Design Chucks, a Wealth of Experience in Automobile Part Production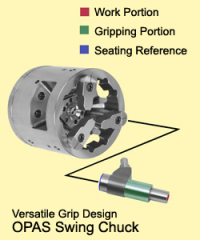 The SOUL was a technological innovation in the late 1920s that led the way to scroll chuck production in Japan, and then supported domestic manufacturing throughout World War II. Later, a design chuck for mass production gradually evolved with the development of compact motors, as a result of technological collaboration with the US company Woodworth.

The automobile consists of a variety of parts, which must be produced using equipment and facilities that can maintain precision under severe conditions.

Design chucks are specialty products, and therefore quality, price, delivery and other factors are critical. Teikoku Chuck is proud of having the top record for delivered products in Japan as a result of 35 years of design chuck expertise and the adoption of information technology.
Systems for CAD drawing management that can recall even the oldest deliveries, in addition to barcode input and production management systems for managing the progress of constituent parts for different products, make it possible to effectively accommodate diverse and demanding user needs.
Design Chucks For All Shaft Machining Work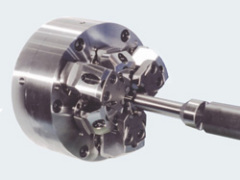 The UBL-6JAW is an energy- and space-saving design chuck created specifically for shafts.
Its centering and compensating function makes it possible to machine long shaft workpieces with different end diameters on an automobile production line. The result is that all of the work to meet work rest and tail centering specifications is handled on a single numerically controlled lathe instead of three machines.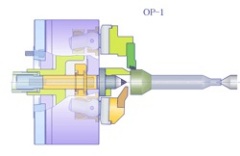 The mass production of shafts normally requires machines for three different processes: machining both ends and center holes of workpieces, machining the shaft exterior while one end is gripped by a compression chuck with dual center support, and machining the previously gripped section by gripping the opposite end with the same specifications.

The UBL-6JAW makes it possible to complete all these processes with a single numerically controlled lathe.
First, the larger diameter end of the workpiece is centered and gripped by a 3JAW chuck and then secured by a work rest.
After both ends and a center hole are machined, the exterior is machined with dual center support.
The workpiece is then turned over by a robot, the smaller diameter end relative to the chuck center is compression gripped, and the same work performed.
Furthermore, different types of shaft workpieces can be produced by changing over the jaw piece and stopper at the receiving step.
Multi-Jaw Chucks For Machining Thin Workpieces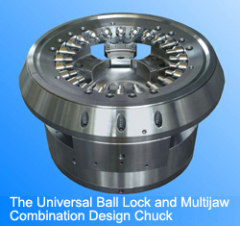 Thin cylindrical workpieces make high-precision finishing difficult since they are deformed by even the slightest force.
Neither gripping the workpiece exterior, nor using face clamps to grip the two rigid ends, are possible.

The multi-jaw chuck is an innovative design chuck capable of finishing thin workpieces with the same high circular precision as thick ones.
Its multi-jaw design incorporates Teikoku Chuck's self-developed floating mechanism, which provides rigid support to irregularly-shaped thin workpieces by firmly and evenly gripping their exterior.

Teikoku Chuck can flexibly respond to the diverse machining conditions and demands of customers specializing in automobile parts.
Whether combining centering chucks or incorporating centering mechanisms into its multi-jaw design, they can produce labor-intensive single-order items with a quick turnaround, while improving product quality and productivity by providing high-precision finishing to such thin automobile parts as brake drums and automatic transmission components.
Corporate Profile
Corporate name

TEIKOKU CHUCK CO., LTD.

Address

2-1-50 Kita-Kyuhoji, Yao City, Osaka, 581-0071, Japan

President

Masayoshi Terasaka

Founded / Established

1926 / 1945

Phone

+81-72-923-1821

Fax

+81-72-992-5457

Company URL

English (https://teikoku-chuck.com/en)

Chinese (https://teikoku-chuck.com/chi)

Capital

95,200,000 yen
Patent, Design Right, ISO9001