OKAMOTO SEISAKUSHO CO., LTD.
MOBIO booth No. : North facility 2nd floor 88
OKAMOTO SEISAKUSHO CO., LTD.
Product line
Water heater parts
Gas hose couplings
Water faucets
Description of business
Founded more than four decades ago, Okamoto Seisakusho has a history of research and development in water and gas control technologies for hot water heaters. Other products of theirs such as safety systems and shut-off valves for intelligent gas meters as well as high-pressure valve devices for construction equipment and railroad cars have been well received by companies in those industries.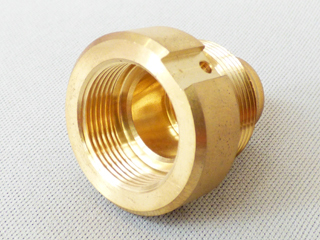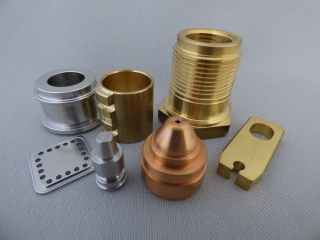 Products and Technologies
Cutting Services Using NC Combined Machines
Precision, High-quality Products from Precision Cutting Technology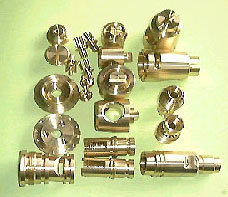 Okamoto Seisakusho has a lineup of outstanding equipment such as an NC combined machine, a six-axis automated lathe, an NC lathe, a machining center and a surface grinder. With this equipment and precision cutting technology, they meet customer needs for rolled steel products as well as forging, surface grinding, brazing, plating and assembly work services.

Their products have many applications including as components and gas hose couplings for gas water heaters, gas bibcocks, high-pressure valves and water faucets.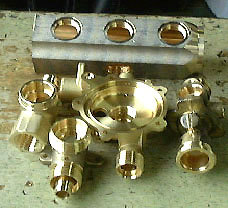 They supply other products that require particular precision and high quality such as contact parts used in shut-off valves for gas meters, touch panel adjustment valves for tabletop gas stoves, sensor mounting plates for ABS (anti-lock braking system) controls in automobiles, and nozzles for plasma cutters handling plates up to 25 millimeters thick.
All of Okamoto Seisakusho's products are manufactured to a surface roughness and flatness precision of 1 to 3 micrometers.

Contact Point Parts for Gas Meter Shut-off Valves

Gas shut-off valves to prevent leakage are built into gas meters that measure the amount of gas used in households. Okamoto Seisakusho makes the parts for such shut-off valves.
They are dedicated to ensuring the precision and quality of these products because of the role they have in protecting human lives.

They use an electromagnetic stainless steel as the base material, cutting it to specification with a combined NC machine.

The surface roughness of the gas seal part is no greater than 3.2 S, and the flatness is precise to one micrometer.
Touch Panel Adjustment Valves for Tabletop Gas Stoves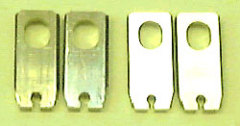 When Okamoto Seisakusho's touch panel control parts are used to adjust the amount of gas in a stove, including when turning the stove on and off, a stepping motor is activated to perform the adjustment.

The material used for these parts is brass. They start from odd-shaped pieces and cut to specification using a combined machine.

To ensure the gas seal remains solid, a surface roughness on both sides of 3 S or less and a flatness of 2 micrometers or less are required.
Corporate Profile
Corporate name

OKAMOTO SEISAKUSHO CO., LTD.

Address

3-5-18 Tamakushicho-Higashi, Higashi-Osaka City, Osaka, 578-0932, Japan

President

Katsunori Higashiguchi

Founded / Established

1958 / 1972

Phone

+81-72-961-1234

Fax

+81-72-965-6793

Company URL

Capital

20,000,000 yen