KOMEI MANUFACTURING CO., LTD.
MOBIO booth No. : North facility 1st floor 54
KOMEI MANUFACTURING CO., LTD.
Product line
Water shutoff valves
Couplings and stopcocks
Temporary piping material rentals
Description of business
Based on its casting expertise, Komei Manufacturing has expanded its operations to processing and sales. It handles such products as stopcocks, water shutoff valves, flanges, check valves, couplings and stainless steel piping material. It has a strict quality control program to ensure the integrity of products, critical for ensuring the supply of water.
It also serves Temporary Piping Material Rentals for saving material waste.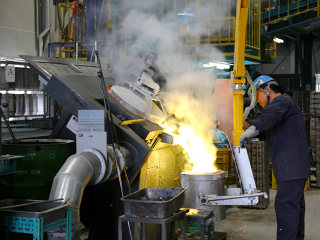 Products and Technologies
Temporary Piping Material Rentals
Working toward a Greener Environment and a Better Society
●Reuse rental program
Typically, once a project with temporary piping is complete on a worksite, the piping material is disposed of, and new material is used for the next project, without considering the effect on the environment.
The first company in Ikuno Ward, Osaka to receive ISO 14001 certification (2000) for its environmental management system and certified for ISO 9001 as well (1998), Komei Manufacturing developed its reuse rental program to decrease the burden of piping on the environment while encouraging recycling.

With reuse, pipes and related items are supplied to worksites. Because Komei Manufacturing is an expert in piping, it ensures that its rental products can be used safely to supply water and eliminating the issues of disposal.Its clients save material and labor as well as finding their construction process is faster, decreasing costs and contributing to the environment.

●Repurchase program
Another innovative way Komei Manufacturing is contributing to industry is through its Repurchase program, providing water supply materials that assist projects in progressing more smoothly from material procurement to project completion.
Toward Higher Customer Satisfaction
Komei Manufacturing's philosophy is to continuously work to develop new technologies and create higher-quality products. More than 530 local government bodies have used its products so far. With its deep level of expertise, long track record and advanced technological capacity, it has earned a high reputation among local government bodies.

Supporting its success are production lines, performing the entire manufacturing processing from casting and mechanical processing to assembly. It accepts small orders including R&D trial production and one-off requests. Komei Manufacturing works with customers and many of their orders are in fact co-development projects.
While meeting the changing needs of their clients, Komei works to always improve customer satisfaction.

•ISO 9001 certified plant
•ISO 14001 certified plant
•Japanese Industrial Standard certified plant
•Japan Water Works Association inspected plant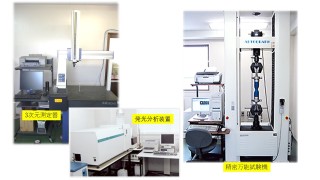 Multi-functional Water Shutoff Valves
Features

1. Capable of stepless flow volume control, a feature not possible with conventional check valves.
2. The ball-type auxiliary valve allows easy replacement of rubber gaskets.
3. The lift-type check valve with a built-in spring ensures normal operation even at 90 degrees, providing support in case the pipe is twisted or falls.
4. The handle can be removed to prevent water theft.
5. The top handle screw can be loosened to remove air in the pipe and water meter, and a pressure gauge can be fitted at the stop screw to record pressure changes when the handle lever is turned off.
6. The expandable shutoff valve construction simplifies water meter replacement.
7. False reading of the water meter indicator due to pressure pulsation in the main can be prevented
Patent, Design Right, ISO9001, ISO14001