MOBIO booth No. : North facility 1st floor 59
LOBTEX CO., LTD.
Product line
Hand tools
Fastener and fastening tools
Electrician and crimp tools
Description of business
Ever since its founding, Lobtex has continued to manufacture products to serve customers and society for about 130 years. Although the times have changed, Lobtex continues to evolve and develop. Still, it remains committed to serving customers by manufacturing tools that are convenient, easy to use and which make work more efficient. In these modern times of material riches, our corporate belief is that we also need to pursue spiritual richness. Getting users, and especially children who represent our future, to experience the joy, satisfaction and sense of achievement to be had from using tools to make things will contribute to society and build a bright future. The mission of Lobtex is to help make this happen.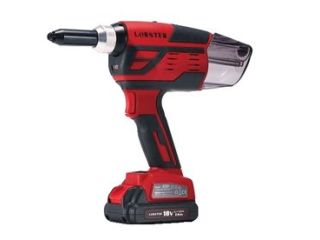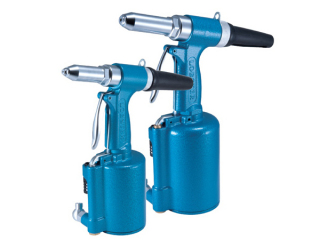 Products and Technologies
Cordless Riveter R1B1/B2
Advanced Cordless Riveter !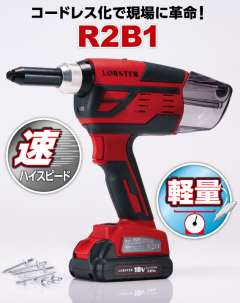 ・Achieved 「iF Product Design award for 2014」 &「Reddot Design award for 2014」
・Compact body in dimensional size
・High speed riveting, Considerably improved work-efficiency
・Excellent weight balance can reduce wrist fatigue of worker.
・Installs 560 rivets on a single charge.(using 4.8mm stainless steel rivet)
・Mandrel collector with increased mandrel holding capacity for improved work efficiency.
・LED spotlight for preciensely illuminatiing the object.
Air Riveter AR-011X Series AR011MX/HX
Coming out newly-evolved X series in a globally-recognaized AR-011Series.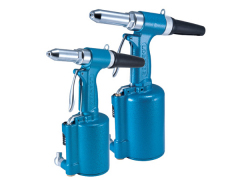 ・With its toughness of AR-011 Series
・Longer stroke from 14mm to 16mm (AR011MX)
・Applicable to Stainless Steel Rivet owing to Ultra Jaws and "Softset"(*) technology (Shockless)
・Easy Jaw maintenance by One-touch detachable Jaws Case
・With built-in Silencer
・User-friendliness with Rotary joint and soft Safety cover
・Customizable: Optional parts available (Short trigger and Straight joint)

(*)Softset shockless technology offers ergonomically correct action to minimize risk of CTDs(cumulative trauma disorders).
Automatic Riveting Unit, ARU111M
Integrated tools into an articulated robot, automatic riveting is possible even at hard to fasten location!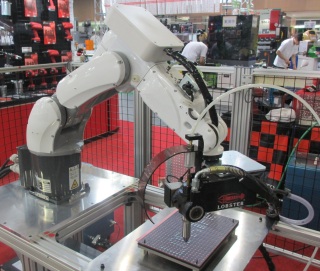 ● An automatic riveting unit

Lobtex has developed an automatic riveting unit, ARU111M, in order to respond to rapidly growing demand of automatic riveting of blind rivets.
It reaches and fastens rivets even at hard to fasten location by integrated operation with an articulated robot.



● Keep on moving

Lobtex is making best effort to maintain established corporate philosophy, to manufacture high quality and handy tools at reasonable cost.Lobtex continuously challenges and moves forward to make customers satisfied.
Corporate Profile
Corporate name

LOBTEX CO., LTD.

Address

12-8 Shijo-cho, Higashi-Osaka City, Osaka, 579-8053, Japan

President

Toshitame Jibiki

Founded / Established

1888 / 1923

Phone

+81-72-981-7466

Fax

+81-72-981-9420

Company URL

Capital

960,000,000 yen

Major account

DIY stores, manufacturers of automobile parts, plumbing equipment and cutting tools, and builders
Patent, Design Right, ISO9001, ISO14001

2012 Good Design award (Air Riveter R1A1/A2)
2014 iF Product Design award (R1B2)
2014 Reddot Design award (R1B1/B2)
2015 Good Design award (Tube cutter TC127)