MOBIO booth No. : North facility 1st floor 57
HOUSE B.M. CO., LTD.
Product line
Core saw drills
Hole saws
Anchor plates
Description of business
House BM produces unique products from the planning and R&D stage through manufacturing, all in-house. As a general power cutting tool manufacturer with a significant planning and development capacity, they have earned a high level of trust and a strong reputation. Many of their top-class products are patented.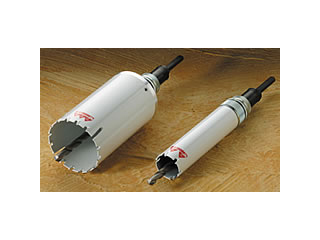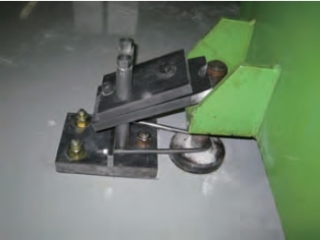 Products and Technologies
Drills and Drill Bits
Drills, Drill Bits and Dust Covers
A core drill bit is attached to a power drill to bore holes such as to install air conditioning equipment in buildings, recessed light fixtures, louver ducts and labor-saving round ventilating fans that have become mainstream in Japan recently.The core drill assembly is also used to drill holes in buildings for wiring and piping.

When drilling, the core drill leaves cylindrical chips inside the hole, and the removal of those chips is a difficult, time-consuming task. House BM's Center Drill Bit with their chip removal system solves this problem, making chip removal easy.

House BM has developed a range of bits to handle any kind of material. One of their innovative products is the ventilation core drill which employs a method of exchanging the core drill bit of large, frequently-used sizes for lower cost and greater convenience rather than having a separate drill for each size bit.
They have also developed convenient tools with patented functions to assist in various work environments including overseas work situations.

To accommodate different kinds of working materials, we have developed a range of innovative bits including the ventilation core drill, which employs exchangeable core drills of frequently-used large sizes to achieve lower cost as well as greater convenience compared with a complete set of tools of different sizes.
In addition, we have developed and commercialized domestic- and foreign-patented functions and convenient tools suited to various working environments in order to meet market needs.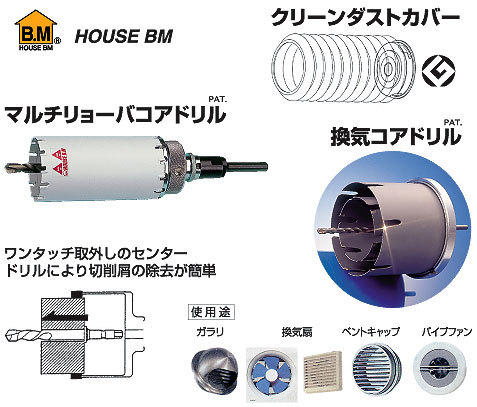 The Docchimo Two-sided Hole Saw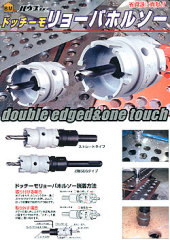 Handling a Wide Range of Materials
The Docchimo Two-sided Hole Saw is ideal for boring hoes up to 4.5 mm long in stainless steel plates, steel plates, aluminum plates, PVC sheets, fiber reinforced plastic, enamel, stainless steel pipe, steel pipe and cast iron pipe as well as up to 15 mm long in ceramic siding, metal siding laminated boards and artificial marble.

Features:
•The two-sided drill bit is from 21 to 55 mm, greatly decreasing bit costs by cutting twice as much material with one bit.
•The bit can be easily replaced and the snap-in shank removes chips easily. A single shank handles all sizes of bits from 14 to 20 mm.

Adaptable Power Drill Bits
For power drills with chucks 10 mm or greater, vibrating drills and lightweight SDS hammer drills always use a rotating type drill bit.
Multipurpose Drill Bits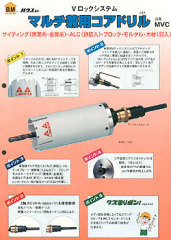 Handling a Range of Materials
In the past, you had to select the core drill bit to match the material you were drilling, but with House BM's new multipurpose bit, those days are over.
Some of the many materials that can be drilled include the following:Power drill vibration mode, chuck capacity:
13 mm Mortar, concrete blocks, brick

Power drill rotation mode, chuck capacity:
13 mm Ceramic and metal siding, autoclaved lightweight, aerated concrete, galvanized plates, colored, galvanized iron plates, wood and plywood,bonded wood, slate, wood cement board, PVC, sheets and pipes

Wide Tip & Center Drill with easy cutting scrap removal

Multiple wide tips are provided at the end of the tool. When drilling, a gap is formed between the blade tip and the material to allow easy removal of cutting scraps with the easy scrap removal function.

Note that House BM's multipurpose bits cannot drill concrete with reinforcing bar.
Corporate Profile
Corporate name

HOUSE B.M. CO., LTD.

Address

2-6-25 Aramoto-Kita, Higashi-Osaka City, Osaka, 577-0011, Japan

President

Kunio Ajimi

Founded / Established

1967 / 1980

Phone

+81-6-6744-9558

Fax

+81-6-6744-9568

Company URL

Capital

12,000,000 yen