MOBIO booth No. : North facility 1st floor 66
MARUEMU WORKS CO., LTD.
Product line
Stainless steel screws
Medical equipments
Automobile parts
Description of business
At Maruemu Works, they take the challenge of building beneficial partnerships with clients seriously. From product planning to developing, then molding, manufacturing and selling the product, they are a "R&D" type of manufacturer of products such as fasteners and other parts based around screws, automobile parts and medical equipment (Orthodontic wire).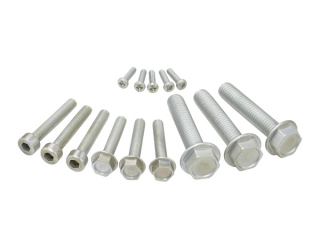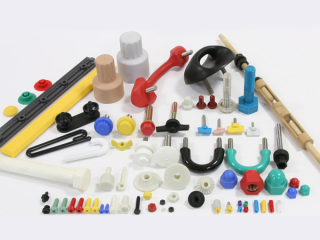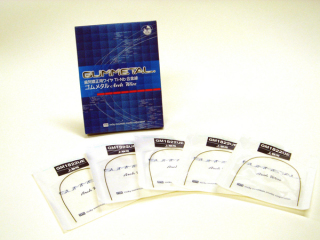 Products and Technologies
Progressing Together with New Screws in the Twenty-first Century
Leading the World in Successful Product Development - Magnesium Alloy Screws
Their primary focus is on stainless steel and engineering plastic screws along with other industrial fasteners.

Other applications from their technologies include tactile paving blocks for the visually impaired and many other products made from engineering plastics as well as part former and press parts that fulfill needs in new markets.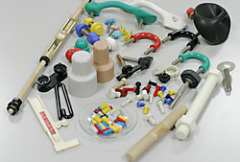 Working at the leading edge of technology, Maruemu Works has developed products from metals that are difficult to work with including magnesium alloys and titanium shape memory alloys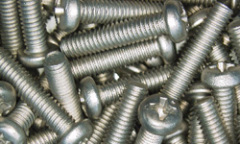 Today, they are dedicating themselves to the development of screws and fasteners that are ultra-strong, ultra-corrosion resistant, lightweight, environmentally friendly and recyclable, leading the world in quality excellence and in meeting new needs
●Magnesium Alloy Screws, Lightest in the World
Magnesium (Mg) alloy has the lowest specific gravity in all structural alloy metals. The fastening bolts made of the magnesium alloy are not only lightweight but provide lots of advantages of fastening properties in case of tightening the magnesium alloy component. This is widely used in many fields. The merits are obtained because bolts and fastener components are alike in terms of mechanical and chemical properties. Therefore, magnesium structural parts provide the best performance when tightened by magnesium alloy bolts. Maruemu Works started mass production of Mg alloy bolts made of AZ31, popular magnesium alloy, in 2004.
As a leader of Mg bolts manufacturing, Maruemu developed new Mg alloy bolts with higher strength and high heat resistance.
The AZX912 bolt was developed with a grant from the Japanese Government, Ministry of Economy, Trade and Industry. Mg alloy bolts fasten Mg parts tightly and gently.
Metallic Glass Fastening Bolts
Higher clamping force and greater tightening torque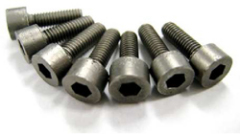 At Maruemu, the Metallic Glass (MG) bolts are manufactured by cold thread rolling (CTR) which has been considered to be difficult to apply to the fabrication of MG parts. Their process provides MG bolts with toughness in addition to realization of mass production. The high strength and low spring constant provide the special properties of tightening the components gently and high resistance against bolt loosening.
MG bolts are 30% greater in strength than high tensile strength steel (HTSS) bolts and realize higher clamping force and greater tightening torque than high tension steel bolts, which leads to precise control of the clamping force.
Orthodontic Wire
Excellent orthodontic abilities and biologically friendly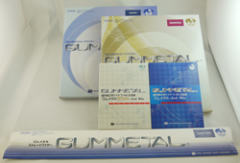 Maruemu Works initiated the development of the orthodontic wire made of Ti-Nb based beta titanium alloy, called "GUMMETAL", which exhibits excellent orthodontic abilities and has biologically friendly features. Although the wire is difficult to form the desired shape and stability in the manufacturing process due to its special mechanical properties, Maruemu has overcome these difficulties by the original methods for wire drawing and wire bending.

Additionally Maruemu Works has been entitled the medical devices marketing authorization holder by Osaka local government in 2009 and received ISO13485 certification in 2010 to manufacture quality products for global customers
Strong, Ductile and Corrosion Resistant
PS-550 Perfect Stainless Steel
It is commonly accepted that stainless steel is excellent for resisting corrosion but poor when it comes to strength.
When only martensite is used, strength is adequate, but corrosion resistance still fails to deliver the level desired. PS-550 is a high-performance stainless steel developed through a new technology at Maruemu Works that simultaneously resolves these problems, an ideal steel for many applications.

Stainless Steel for Seawater and Acid
MS-270 Marine Stainless Steel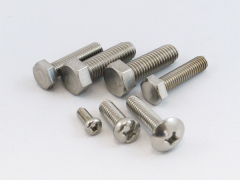 MS-270 is an austenitic stainless steel superior in preventing chloride corrosion and stress corrosion cracking compared to SUS 316 and dual-phase stainless steel. MS-270 is maintenance free, a truly superior product.
Corporate Profile
Corporate name

MARUEMU WORKS CO., LTD.

Address

4-7-12 Nozaki, Daito City, Osaka, 574-0015, Japan

President

Kenichi Ishimoto

Founded / Established

1927 / 1951

Phone

+81-72-863-0100

Fax

+81-72-863-0160

Company URL

Capital

157,850,000 yen
Patent, ISO9001, ISO14001, ISO13485