Find out why and how presidents of MOBIO exhibitors started "INNOVATION and CHALLENGE" through the special interview. The latest "Meet the President" article is
Mr. Sumiya of HATTA KOGYO CO., LTD.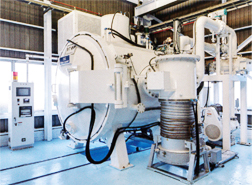 - Plasma nitriding treatment, Ion nitriding treatment, Vacuum heat treatment
●Heat Treatment Technology to freely adjust the hardness of metals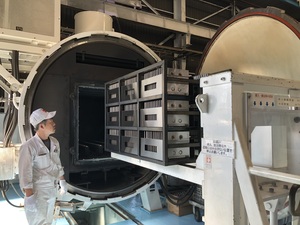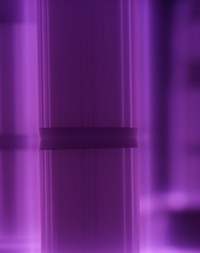 L) Vacuum heat-treatment operation
R) Ion Nitriding operation
HATTA is engaged in heat treating and machining metals. Sumiya explains the technology simply: "Heat treatment is just three functions: hardening metal, softening metal, and bonding metal to metal." However its heat treatment requires a "professional control of burning condition" to experiment the appropriate hardness and shape for various metals in compliance with the customer's needs.
On the other hand, there are multiple methods of heat treatment. In "vacuum heat treatment," the inside of the furnace is evacuated before heating, and the steel surface is not oxidized, resulting in an excellent luster finish.
"Ion Nitriding" produces a hard layer of nitrogen by generating plasma on the surface of steel in a nitrogen gas atmosphere and allowing nitrogen to penetrate the surface. "This process does not require rapid cooling, so there is less deformation of the steel. By adding the element of nitrogen, we can also easily harden the part to be hardened," says Sumiya.
●HATTA's commitment to manufacturing, including prototyping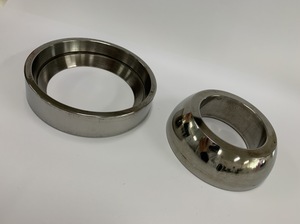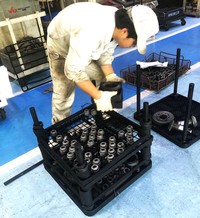 L) Bearing parts treated by vacuum heating
R) Strength is high-mix low-volume production
What sets the company apart is its ability to handle a wide variety of products in small batches. "HATTA treats products that are small to hold in a person's hand, and makes a countable amount of them," says Sumiya.
Another is to undertake even "testing" of heat treatment processes when customers develop or improve their products. "The technique of heat treatment is an expertise to be kept in-house. If manufacturers outsource the entire heat treatment process, they will lose competitiveness as a manufacturing company." Sumiya's words reveal his responsibility and pride in manufacturing.
Finally, Sumiyai expresses his affection for his hometown, stating, "HATTA aspires to be a company that loves local community. Metal products are weighty, thus it is cost-effective to heat-treat them locally to minimize logistics expenses. Coexisting and co-prospering with local businesses is one of HATTA's key missions."
--
Interviewed on August 1, 2023
Send your question or request from here to HATTA KOGYO CO., LTD.