Find out why and how presidents of MOBIO exhibitors started "INNOVATION and CHALLENGE" through the special interview. The latest "Meet the President" article is Mr. Yasiui of TSUKATANI HAMONO MFG.CO., LTD.
TSUKATANI HAMONO MFG.CO., LTD. https://www.m-osaka.com/en/exhibitors/212/

- Steel cutting rules, Flexible pinnacle dies, Business form parts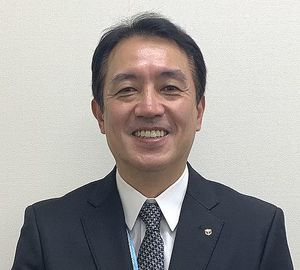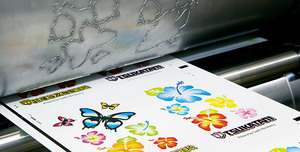 ●Maintains leading domestic market share in Japan with three main products: steel cutting rules, business form parts and flexible pinnacle dies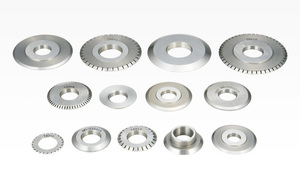 Steel cutting rules are used for punching cardboard and paper packages in the form. TSUKATANI maintains a 60% share of the domestic market because it requires technology and special equipment to achieve high accuracy. Business form parts are used to punch holes and cut and perforate various types of slips. The company boasts an overwhelming 90% share of the market and its feed pitch has been adopted as a national standard.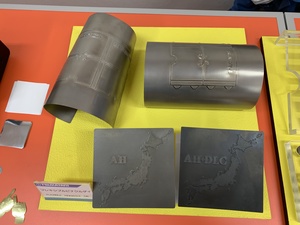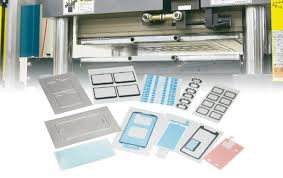 And a flexible pinnacle die is the blade for cutting stickers and labels. It is need to be kiss-cut, meaning only the top layer of the mterial needs to be cut out. TSUKATANI is the first in Japan to successfully develop an original manufacturing method of applying sharp edges to an etched mold. Its thin die can be wrapped around a cylinder for rotary processing, so it can be used for various types of cutting, simply by changing the pinnacle die. And the precision of the shape and the height accuracy of the die is important in kiss-cutting. Demand for pinnacle dies has expanded to cut lables and LCD films for cell phones. Today TSUKATANI has captured an 80% share of flexible die market in Japan.
" Our strength is to have introduced a number of originally developed specialized pinnacle die machines to achieve quick delivery. In addition, we have made many innovations in programming and etching. Moreover, with the cooperation of machine makers, we are striving to maintain our market share by continuing to evolve to produce better products," said Yasui confidently.
●Going global with the high quality that can only be achieved by Japan Tech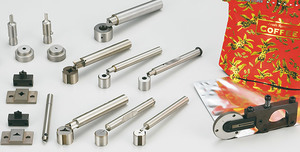 While continuing to strive for daily evolution in product manufacturing, the company is also promoting new business development. One of them is the production of punch parts for pouch. In recent years, TSUKATANI has been working to produce more precise blades for cutting soft packaging materials used in shampoo and detergent refills, converting business form parts. "The business form must continue to supply as long as there is demand for it. But its market is predicted to decrease as the use of paper continues to decline. As an alternative, we would like to expand our production of punch parts for pouch," Yasui said.
The company is also actively promoting the overseas development of steel cutting rules and pinnacle dies. Yasui believes, "It is sure there is a need for the quality that can only be achieved by Japan Technology."
In particular, orders for pinnacle dies from the U.S. are increasing. The thin metal products can be transported by air and is also an advantage for the company's overseas expansion.
The company has established a manufacturing base for pinnacle die in Korea and a manufacturing base for steel cutting rules in Thailand. And the company is working to further expand its network.
Yasui said, "In order for people around the world to think "Made in Japan is good", our products must be the best in the world. I am looking forward to the future with all of our employees taking on the challenge with this in mind, and I look with great anticipation to the future."
 
TSUKATANI will continue to evolve with the pride of having the leading market share.
--
Interviewed on December 2, 2022