This is the state-of-the-art technology developed by OSAKA SMEs. At the MOBIO Tech Hall, you can discover amazing technologies!
DAIPLA CORPORATION:https://www.m-osaka.com/en/exhibitors/476/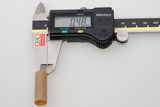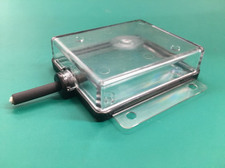 Left: a sleeve for oil-free chain
Right: a hollow sealing by insert injection molding
PEEK material has the highest rank among "super engineering plastics" with various characteristics such as heat resistance, high strength, chemical resistance, wear resistance, and low outgassing. At DAIPLA ,a "sleeve for oil-free chain" (see image) , with 30 mm long, 11 mm diameter, 0.48 mm thick pipe-shaped ultra-difficult product had already been molded about 30 years ago.
DAIPLA's strength is to shape customer needs, such as complicated and precise insert molding, which combines difficult-to-mold super engineering plastic materials with different materials such as metals.
Study DAIPLA's molding technology at the 2nd floor of the MOBIO Tech Hall.