This is the state-of-the-art technology developed by OSAKA SMEs. At the MOBIO Tech Hall, you can discover amazing technologies!
LOBTEX CO., LTD.:https://www.m-osaka.com/en/exhibitors/073/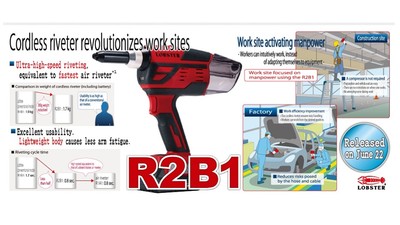 LOBTEX, a 130-year-old company and a comprehensive tool manufacturer provides with a wide range of tools under the "LOBSTER" brand, from professional use to home use. LOBTEX is focusing on developing various tools to meet customers' needs. 
In air riveting, which is diversified in factories and construction sites, there are many work restrictions due to equipment such as compressor installation, air hose and power cord routing. The cordless riveter was good fit to solve operational issues. With the new product R2B1 released this year, LOBTEX has made further improvements to the functions and made full use of its professional technologies in tool manufacturing, such as ultra-fast riveting and a lightweight body.
View features of R2B1 on this video.
Visit MOBIO Tech Hall and study the product displayed at the LOBTEX's booth in the 1st floor.