At the MOBIO Tech Hall, you can discover amazing technologies!
This is the state-of-the-art technology developed by OSAKA SMEs.
* YAMAZEN MOLD CO.,LTD. Design, production and pilot run of injection molds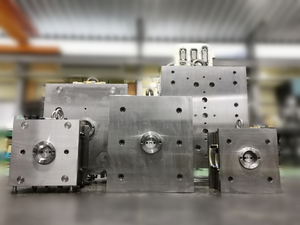 Mold suitable for resin material / Electrode for developing a curved surface of 0.05R
YAMAZEN is a mold manufacurer who will provide every molding services from design to production, including trial molding run and readjustment of mold.
At electric discharge machining to cut a curved surface at 0.05R, it applies the accumulated expertise and craftsmanship to produce the mold with precise and glossy surface.
Additionally YAMAZEN is involved in mold maintenance and renovation, and provides total support for molding dies, such as redrawing old dies without original drawings.