Find out why and how presidents of MOBIO exhibitors have started "INNOVATION and CHALLENGE" through the special interview.
No.49 is Mr. Iwatuki of *** JOUNAN CO., LTD. (Read on to find out details) ***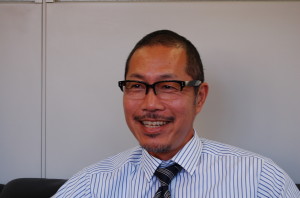 - Plastic form construction materials, gaskets for gas meters and home appliances
● Open up value-added market
Material cutting for construction market
Jounan is in charge of processing plastic forms (Polystyrene and Urethane) to various shapes for construction market, gas meter gaskets and commodities. In its core market, construction business, it has the exclusive products as the back-up materials to avoid break or separation of wall joint and "J Sealer" for tight sealing of sashes and doors.
"We used to monopolize water-proof wall joint market in Western Japan, however, after the bubble economy bursts we have come to face market competitors and price competition." Iwatuki said, "Throughout two years' business and corporate review since my CEO assignment, I decided the new corporate target for future." It was his start to convert corporate structure by developing value added product market.
● Leaving marketing activity to young staffs and resulting in new business development
Leaning against the construction market heavily means corporate operation would be affected directly by price competition and industrial depression. "My goal is to change our business model by expanding to versatile business market, that is value added sector in the form market," Iwatuki said.
To accomplish that goal he hired younger marketing staff and allowed them to run independent activities. He mentioned, "Each plastic form has special characteristics and can be arranged for the best fit of the purpose. It must be our value to select appropriate materials and to process correctly based on form technology. And I am happy for my staff to be able to propose their ideas whenever they are asked by customers if there is any solution for this problem."
Thanks to effort by the younger marketing staffs market mix has totally changed to 30% of construction materials, 25% of gas meter gasket and 50% of new market segment. Its new market for Jounan includes packaging market, medical market, stationary market, cosmetics market and etc. And its new account opening at new market is still increasing.
Iswatuki pays his special attention to protective holding form for packaging industry. Interesting enough he receives variety of orders to hold expensive cameras, micro phones, religious objects and etc.
● "Short Lot Production Run" and "Short Delivery Planing" are driving factor for new Jounan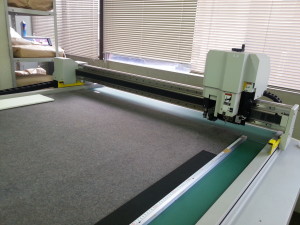 The cutting plotter operated by CAD system produces complex prototype models
Through marketing team self-regulatory meeting after five, Iwatuki was requested and has decided to install the cutting plotter machine for lively presentation by use of full size samples. Its operation assists customers to decide on the spot at the meeting with Jounan's younger staff.
Additionally he has set up immediate delivery system. "When the marketing staff takes a call from a customer, the factory staff effectively manufacture products under well organized operation control by the office staff. Team Jounan works as an one functional team to decrease any inconveniences at customers' site," Iwatuki said. That is why it can respond to customer's order in the morning and to deliver products in the afternoon.
In order to establish the new corporate culture, he continuously emphasizes importance of business basics. Finally Iwatuki said, "Our corporate has acquired customer's confidence through right processing and on time delivery services. I sincerely expect my staff to consider everything seriously and to do what's expected as expected."
--
Interviewed on May 20, 2015
To communicate directly with JOUNAN CO., LTD., please send your message from HERE!