Both in sporting and working condition, "Eye-Safety" is a basic requirement for the people. That's why SWANS and YAMAMOTO branded eyewears feature "Fog Free" technology developed through continuous field marketing as the professional eyesight corporation with 100 years experience. The CEO Yamamoto is developing further technology to provide more features for 2020 Tokyo Olympiad and other business opportunities.
-- Find out why and how presidents of MOBIO exhibitors have started "INNOVATION and CHALLENGE" through the special interview.
No.42 is Mr. Yamamoto of ***YAMAMOTO KOGAKU CO., LTD.(Read more) ***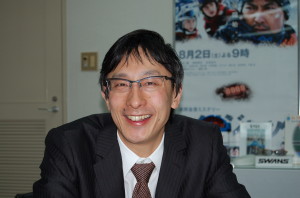 - Sports sunglasses, Sports goggles, Industrial safety glasses
●SWANS - Highly appreciated brand by athletes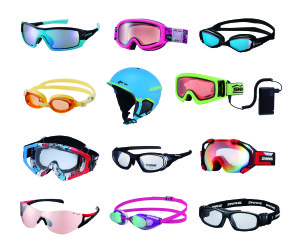 ▲A wide variety of Sports sunglasses and Sports goggles for swimming and snow skiing
SWANS branded sports sunglasses and sports goggles for swimming and snow skiing are widely known to the athletes. SWANS swimming goggles, dominating in Japan with 60 percent of the market share, are key products for Yamamoto's business transaction.
Reviewing their innovation and challenge, Yamamoto said, "Wishing to provide more convenient glasses the corporate founder started to manufacture glasses apart from dust‐proof glass polishing business. It was the step forward to industrial goggle production. The second CEO developed swimming goggles for diver fishing with SWANS brand name. The third CEO entered snow ski goggle manufacturing and made several innovation in the company. At those days when Japanese goggles had been valued as the poor quality products, he had developed better goggles in function with anti-fogging features comparing to imported goggles. Then he had successfully positioned SWANS goggles as precious items."
For some period ski goggle business had been the important business pillar at Yamamoto. When skiing population decreased, the company took another turns. "In time for 1992 Barcelona Olympiad, Japan Association of Athletics Federations requested us to develop sunglasses for marathon runners. Although there was no market for sports sunglasses at that time in Japan, Yamamoto foresaw possible growth of the market and paid marketing attention to the new category," Yamamoto said.
It took ten years when wearing sunglasses became popular and standard among athletes. Today in Japan SWANS sport sunglasses are prevailing for the players in golf, baseball, fishing, cycling, jogging and etc.
●Expanded business through "Safety View" creation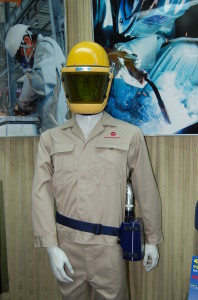 ▲Effectiveness to use "Fan Operated Respiratory Protective Equipment" for dust workers has been certified
In 2011, at their centennial anniversary, Yamamoto took over the CEO and told us what he said to employees, "It is our proud to celebrate the 100th anniversary however it's not our goal. Considering the next 100 years, let's identity what we need to change and what we need to maintain. And let's establish concrete corporate policy to innovate continuously to respond to market needs of 'Safety View'".
The first product introduced as the new CEO was the new swimming goggle with four times longer anti-fog life than previous models and has been widely accepted. Yamamoto commented their engineering strength, "Throughout technical research to secure Eye-Safety, the market leading product is to be developed."
Their basic business principle is to protect Eye-Safety. And so Yamamoto is putting emphasis on new product development in the field of industrial safety goggles and fan operated respiratory protective equipment, that accounts for 40 percent of Yamamoto's sales amount. One of them is the fan operated respiratory protective equipment for welding workers, that emits filtered air to the workers' surface preventing from fume and dust and has been proved to be effective.
"On top of eyesight improvement I will expand business category further to create better vision from all aspects by materializing peripheral devices. We know Asia is emerging market and will inform them of our Safety Culture," Yamamoto continued, "The sporting sunglasses feature wrap-around-frame that follows the shape of the face. And SWANS sunglasses are originally designed for Asian framework and that's why SWANS products are highly appreciated in Asia. We will accelerate export business knowing rapid market growth in Asia."
●Foster SWANS brand based on Customer First policy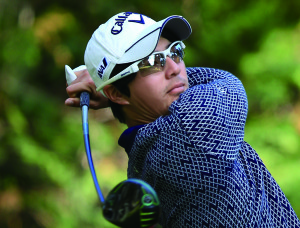 ▲SWANS sporting sunglasses are widely used by leading professional athletes such as Ryo Ishikawa, a golfer
Bottom-up approach to management from the market field is the core strategy for Yamamoto to foster the brand. He believes it is more effective to participate in sporting events to contact users directly and to learn their opinions directly than spending huge amount of money to medias. Yamamoto said clearly, "It is SWANS' style to foster the brand by communicating with end users and to create new brand concept together." Contracting with the famous athlete is not only intending to improve brand awareness. Yamamoto continued, "The professional golfer, Ishikawa, suggests various points from a user's point of view, such as improving grip and adjusting weight balance. He is one of the persons who know how and what sports sunglasses should be. And ever lasting improvement to reflect those specialists' request helps assist to position SWANS branded product the reliable item."
Additionally 2020 Tokyo Olympiad is the major event for Yamamoto as well for activating market demand and developing something new. Yamamoto said, "It's a great opportunity for us to expand our market share and enhance brand awareness. So we are devoting ourselves to introduce another core product at Yamamoto. It's totally secret and will be in the market by 2020. Just wait for more years, and you will notice another innovation!"
--
Interviewed on November 27, 2014
To communicate directly with YAMAMOTO KOGAKU, please enter from HERE!