●MVP (Most Valuable Participant) in 2013
" By attending the MOBIO Cafe Meeting, I was entitled to obtain points to my MOBIO membership card each time. At the end of 2013 it became 36 points. I am so glad to be selected as the MVP," Ueda said with a smile.
As a team member of KANSAI LABORATORY CO., LTD. , who provides consistent evaluation of material quality and analysis of volatile organic compounds, Ueda is responsible to develop a new account.
Originally he was invited to join the MOBIO Cafe Meeting by MOBIO staff. Ueda said, "Well, I thought it might assist to develop a new customer. If the companies relating to color plastics participated in the meeting, I could explain our evaluation technology, light resistance testing at shorter period. Today it is not the only purpose of participation to acquire new customer."
He may not meet his potential customers every time, however he participate in the meeting continuously. Because Ueda said, "One of my business target is to develop non-fabric market. By frequent participation, I thought I might find new demand for KANSAI LABORATORY beyond our expectation. Through discussion in the Cafe Meeting I have noticed test and analysis were common business activity at any industry and at any manufacturing process."
●20 seconds self-introduction is a key to success
According to Ueda, he met many companies in the Cafe Meeting to be listed as potential plastic customers. Moreover he has met many other companies in a various industry market, who will be totally new to him. Ueda said, "For example I came to know light resistance test is applicable even for metallic items throughout discussion with the Cafe Meeting participants. Like this I am learning something new each time. So I try to talk to both presenters and listeners with exchanging business cards."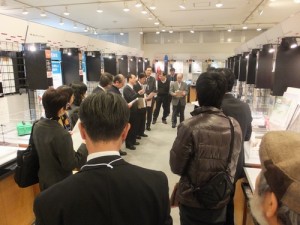 Self-introduction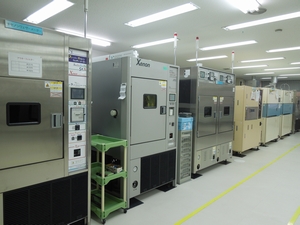 Light resistance test equipment
In the beginning of MOBIO Cafe Meeting, each participants are scheduled to introduce themselves. Ueda said, "Self introduction is the key point for me. I try to make it as simple and impressive as possible, saying 'I am Ueda from KANSAI LABORATORY, providing light resistance testing services. Just in a few days we can prove deterioration of materials after one year.' It outlines myself and is a kickoff to talk each other at a Cafe session."
By participating the Cafe Meeting, he has been called by participants "You are from light resistance testing company, aren't you?". "In the last one year I was asked by more than ten companies. And actually I could have started business with some of them. My network has grown and brought good result," Ueda said.
●He that stays in the valley, shall never get over the hill
Ueda believes MOBIO Cafe Meeting is NOT the place only to see, hear and return. With positive communication participants will find real beauty of the Meeting. He said, "There is a seeds to re-identify our corporate. We should not hesitate to attend because of unfamiliar business presenters. Rather it is more interesting than simply hearing to familiar issues. Cross industry meeting is concept of MOBIO Cafe Meeting and it is really fun. We should not say in the valley,but shall get over the hill."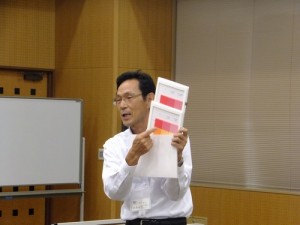 Presentation in the MOBIO meeting
Lastly he commented, "In the first the person may need extra effort to talk to. In such a case, feel free to talk to me. Let's turn the balls together!". and mentioned his wish in this year, "I could have met so many people. And I will make my effort to cultivate business opportunities with expanding network. Surely I am planning to participate in the MOBIO Cafe Meeting this year as well, positively!"
Interviewed on February 6, 2014