TOYONAKA KEISOU CO. LTD. is a company specializing in development and manufacture of wire-saving devices and systems.
At SME Fair in Kaisai 2013 they specially featured the patented new product "Smart Power 24″, integrated wire-saving multiplex transmission (Universal Line) with power supply function. With this unique scheme, two wires can, in addition to power supply, carry diverse information about contact control output at 256 locations. Its technology is widely used by major Japan's railway companies.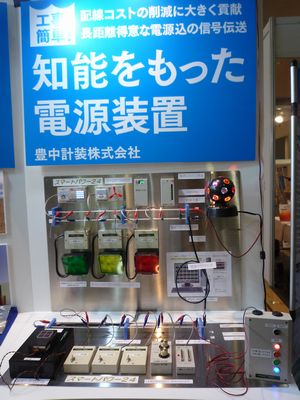 Display at SME Fair in Kaisai 2013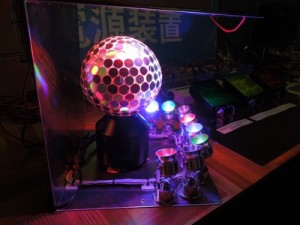 The Brilliant Disco Ball was the Symbol of MOBIO booth
10 companies participated in the MOBIO booth. The show visitors were attracted by the shining mirror ball on top of the pinnacle of MOBIO "Castle" booth. Its ball was designed by one of the participants, TOYONAKA KEISOU CO. LTD. In order to inform their technology- wire-saving multiplex transmission, effectively, they have materialized the special design.
"I am proud of our technology, however at the same time I felt it very difficult to explain to the public in a way that they easily understand. Participation to this trade show guided me to the new way of product presentation." says Mori.
The young freshman was assigned all setups for the show and seriously studied at the MOBIO preparation seminar. Actually he was always the first to submit his homework.
"At the MOBIO seminar I was asked explanations of our products by participating members and the tutor. So I started to consider difficulties to understand by the others. It was very valuable for me to study effective product display throughout discussion with other members" says Mori.
"Glittered on the pinnacle like this", demonstration by Mori
"I have designed to install the disco ball on top of the pinnacle of the MOBIO castle as a demonstration of data transmission from a distance. This was created only because I could attend the MOBIO seminar. " says Mori. At TOYONAKA's booth they placed the control device with four color switches. By depressing the designated color switch, the identical light will turn on light at the disco ball. Since the ball rotates, it looks glittering.
"It was quite a good lesson for me to learn the new way to display. And I believe it's good for MOBIO booth as well because of outstanding look."
New product "Smart Power 24", combination of four switches
As a marketing staff Mori is paying attention to information flow. For this trade show, he mailed invitation to customers in advance and sent thank-you mail after the show. With an attractive display Mori and his group collected almost 100 business cards from visitors and they have already started business negotiation with companies.
"I am proud of our technology. For example, these days the highest stand-alone TV tower, Tokyo Sky Tree is widely known. During its construction TOYONAKA's technology was used in the elevator to assist communication, " says Mori. Their technology will be used often although we do not know its application.
Interviewed on June 25, 2013.