Noticed the corporate strength when creating a catch phrase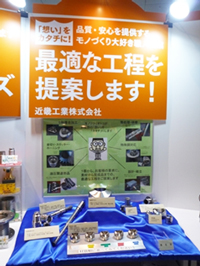 Actual display at the Small & Medium Enterprise Fair 2013 in Kansai
"Since our business is to manufacture hydraulic cylinder parts to various type of metal part, we provide products with any industrial market. This must be our fruit cultivated for past 60 years." says Mr. Tanaka, CEO of the company.
In the past he had participated the show for the purpose of employee's training, and it was the first time for him to have a booth in order to capture new customers. But, his intention to have joined the seminar was different.
"Because our strength was not properly identified, we needed to pin point it. So I have decided to join the seminar to learn how we could illustrate our company."
Actually at the time of catch -phrase seminar he faced difficulty. The tutor's message was quite informative for him. If the phrase works by replacing the corporate name, it won't be their strength. Therefore he came to notice their strength, PROCESS PROPOSAL, that was considered to be the corporate characteristics. "Reviewing 60 years corporate history, our company has been founded on care, consideration and officiousness to others. And at process proposing those factors are essential condition. I have come to notice that process proposal is our strength.
Another feature for Kinki is corporate networking, that is one of the reason why Kinki proposes suitable and careful operation. "Our networking has been established for 60 years and is our fortune. It is one of the reason why I have selected process proposal as our strength."
Kinki does not only provide customers with quotation but also proposes suitable manufacturing process. When customers appreciate its proposal, they become a good customers. Tanaka became aware of Kinki's value from the customer's point of view.
Improved Visual Presentation Skills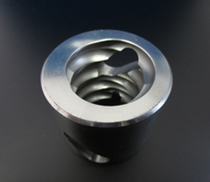 Catch phrase creation was not all of his findings through a seminar. He himself surprisingly learned skills of photo shooting.
"Counting on input at a seminar I have taken our products my self and amazed its different result. I did it! Without hesitation I could focus pictures. And I was very happy to receive a positive comment from a tutor."
He has learned another practical display skills to place products on acrylics stand on the cloth covered stand. And he has expanded communication with other seminar participants or trade show participants.
"We have started actual business among participants. Through joint study for a few months and collaboration at joint booth, we have created a kind of team work and reliance"
Wishing to creating a more attractive display!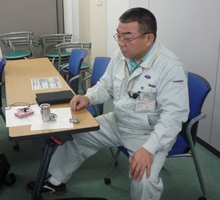 This seminar was very informative to Tanaka.
"Past years I was struggling to reply to questions of corporate strength and corporate characteristics. Now I think I have found the reply. Of course I have noticed importance of improvement and attractive product display as an another challenge."
He also views corporate future.
"I firmly believe that KINKI must manufacture some finished goods. It will be possible for us to create some new technology and products by integrating standing technology. Since SME is good at responding niche market or personal market, we would like to formulate as many needs as possible. And association for that creation has been obtained through this seminar and MOBIO Cafe Meeting."
Tanaka is trying to step forward by introducing branding strategy:
" It is the time to seriously consider branding of our corporation. My participation to this seminar might be the kick-off of KINKI's branding strategy. If there were advanced series of this seminar, definitely I would like to join again"
Interviewed on July 8, 2013