Special Edition by Seminar Participants
MOBIO hosted seminar series to assist SMEs to enroll to trade shows positively.
* Outline study (including onsite study at the trade show)
* Catch phrase creation (highlighting advantage of exclusive technology)
* Leaflet creation (informatively and impressively to enhance technology)
Study is not all at MOBIO. At MOBIO output is considered to be important.
This time some of seminar participants made presentation at MOBIO CAFE MEETING.
1) KINKI YOKI CO., LTD. (View details)
Received award by simplifying product feature and application.
2) Minicom-Consulting Co.,Ltd (View details)
Received award. Through seminars key factor for the flyer became viable and applied to actual catalog
used at the trade show.
3) Arakawa Sigyo
Received award. Learned to make it simple and stupid for impressive presentation and created new leaflet used in the trade show. And created an advertising mask box to have attracted traffics.
4) KINKI KOGYO INC. (View details)
Received award although they could not make the final presentation.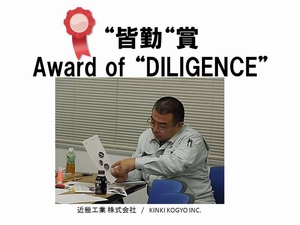 5) SAWAMURA DENZAI CO., LTD. (View details)
Created catch phrase and leafte for electrical insulating materials that counts for unsung hero.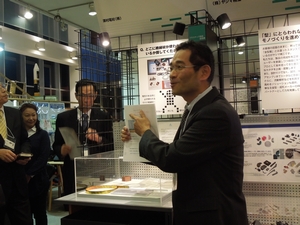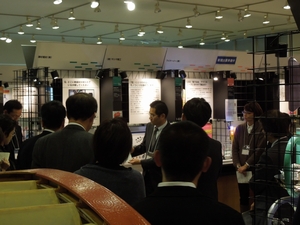 6) Taisei Futaba Industry Co., Ltd.
Created a new leaflet by reducing copy volume and color to be more attractive.
7) OHSHIN CO., LTD. (View details)
Changed catch phrase for the target market and received heavy traffic by use of vidual media.
8) MOBIO Permanent Exhibition Hall (View facility)
Reported the first display at the trade show by creating eye-catching panels with simple catch phrase.
******
... and finally all participants enjoyed the year-end gathering wishing the prosperous year to come.