On Nov. 6, MOBIO seminar "Let's participate in a trade fair ! " series #3 started,
titled " How to create attractive flyers and panels for the fair ".
Point was "Think from the customers point of view! "
Basic flow of media creation was outlined by Mr. Namimoto, the president of " langDesign co.,ltd ".:http://www.langdesign.jp/
1. Edition and presentation
2. Key point of the picture and photo shooting
3. Layout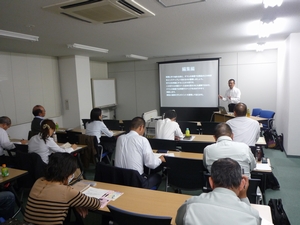 After creating flyer draft of their product, it's time of group working. Members showed their work result each other. " Well... what do you want to say ?" "How about changing your idea to this way ?"
Everybody learned importance of idea and concept organization.
⇒Next seminar is scheduled on Nov. 13, to make impressive and effective "Layout" by using pictures and copy draft.
Mr.Namimoto gave them homework !