This is the state-of-the-art technology developed by Japanese SMEs. At the MOBIO Tech Hall and MOBIO WEB site, search for "The Latest Made in Japan Tech" to improve product features and functions.
AIYU-KI GIKEN CO., LTD. https://www.m-osaka.com/en/exhibitors/1084/
The new exhibitor, AIYU-KI, is the only company in Japan that designs and manufactures parting lock devices for injection molding dies. They are mold opening and closing controllers (product names: Do-Lock) and mold opening controllers (product names: Super Lock and Yuki Lock). The rollers rotate in a well-balanced manner using a locking (pulling) system developed in-house.
This product is useful for improving productivity in injection molding by using a device that provides excellent stability in mold opening control and mold opening and closing control.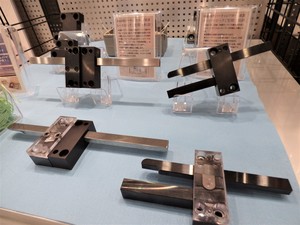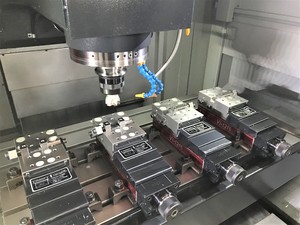 (Left) Various types of parting lock devices are exhibited.
(Right) Precision machining with state-of-the-art equipment
Please visit the MOBIO Tech Hall to see the latest technologies of Osaka exhibitors. Click here for a list of exhibitors.