This is the state-of-the-art technology developed by Japanese SMEs. At the MOBIO Tech Hall and MOBIO WEB site, search for "The Latest Made in Japan Tech" to improve product features and functions.
It is a new material handling product, TEC Self-Moving Rack 2.0, developed by TECHNO ROLL to improve storage capacity up to about twice of ordinary shelving without rebuilding the conventional warehouse building. 
TECHNO ROLL CO., LTD.   https://www.m-osaka.com/en/exhibitors/1056/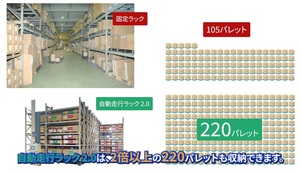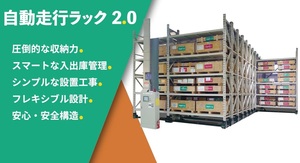 Its features are explained by the new video, including
*Quick installation: Rail-less specifications are available, eliminating the need for earthwork.
*Modified to provide ample storage capacity: Approximately twice the storage capacity of standard shelves (in-house space comparison)
*Cloud management: Easy to check and make reservations from the office or on the road.