MOBIO hosts an internet meetup, Web Cafe Meeting, by five MOBIO BACKUPS with an exhibiter via YouTube Live (in Japanese). They exchanged ideas on "ways for easy-to-understand communication".
Date : June 24 (Thu) 12:15 - 13:00 (finished)
Web tool: MOBIO YouTube channel https://www.youtube.com/c/MOBIOvideo (broadcasted on YouTube Live)
●Speakers:
Guest: KANSAI TOKUSYU KOSAKU-YU CO., LTD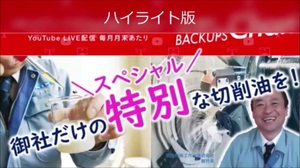 ●MOBIO BACKUPS: 
1) Parabola.Design Spacial architect
2) OFFICE NAKAJIMA INC. Advertisement production
3) YUKI COMPANY INC. Website design

4) FAYCOM INC. Branding of companies and businesses
5) SHARP FOCUS INC. Advertising Photography and video shooting
KANSAI's corporate goal is deep hole drilling research ! It came up with a series of unique expressions to BACKLUPS members: "The finish of cooking and cutting differs depending on the oil used," "A health check on cutting oil," "This oil is carbon neutral," and so on. Watch the video for details.
Enjoy an executive summary VIDEO in three minutes.
Click here to view a live stream version VIDEO.
Information on KANSAI's various cutting fluids is on display at its booth on the second floor of the MOBIO Tech Hall.