MOBIO Tech Hall started "Specialty Display by Skillful Companies" displaying new items developed by 18 exhibitors. Theme is "Let's be "strong," "beautiful," and "vigorous",even with COVID-19".
Please take a look at the Tech Hall when the temporarily closed exhibition hall opens.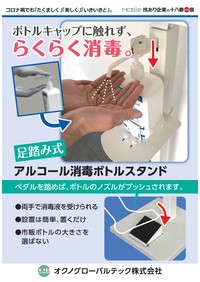 One of "Specialty Display " is a foot-operated bottle stand from OKUNO GLOBAL TECH. This is a new product that utilizes the company's proprietary control cable technology. The company's ability to produce wire products in small lots is also being utilized. Please watch the explanation video.
OKUNO GLOBAL TEC. CO., LTD. : https://www.m-osaka.com/en/exhibitors/536/