This is the state-of-the-art technology developed by Japanese SMEs.
At the MOBIO Tech Hall and MOBIO WEB site, search for "The Latest Made in Japan Tech" to improve product features and functions.
KODAN METAL CO., LTD. https://www.m-osaka.com/en/exhibitors/364/
"Prevention of foreign matter contamination" and "measures against liquid dripping" are required in the filling process at the factory. The filter-replaceable "SUS filling nozzle" is effective and becoming popular in the industry.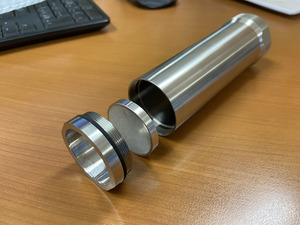 A "pellet sintering craftsmen", KODAN has developed the nozzle of "SUS sintered multi-layer etching filter". It is an advanced technical product with high performance that lasts longer and ten times stronger than conventional products (certified by a strength tester).
Moreover, KODAN is possible to meet the tailored specifications by the application; such as the size of the filter holes, the arrangement of the holes, the number of stacked boards and etc.
At the booth of KODAN on the 2nd floor of MOBIO Tech Hall, please see various sintered metal parts, laminated pure copper wire mesh. Drop by MOBIO to study them