This is the state-of-the-art technology developed by Japanese SMEs.
At the MOBIO Tech Hall and MOBIO WEB site, search for "The Latest Made in Japan Tech" to improve product features and functions.
ACTWORKS CO., LTD.: https://www.m-osaka.com/en/exhibitors/501/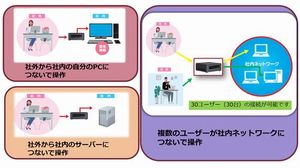 Remote working is essential in the Corona era. However, SMEs have difficulties to start new business operation because they do not have specialized departments for information management, cannot afford to pay new system, lack of setting services, etc. Count on ACTWORKS !! The best solution to make remoteworking available is to use a Manage Cube, a product of ACTWORKS. Workers can access securely to their company's PC or server from their home offices or locations outside the company.
Please see the actual Manage Cube displayed in the booth on the 2nd floor of the MOBIO permanent exhibition hall. It is small but convenient device, required in this era. Drop by MOBIO.