This is the state-of-the-art technology developed by OSAKA SMEs. At the MOBIO Tech Hall, you can discover amazing technologies! 
MITSUMOTO RASENKAN KOGYO CO., LTD.: https://www.m-osaka.com/en/exhibitors/011/

Mitsumoto manufactures bellows with excellent stretchability, springiness, airtightness, and durability with no additional die cost even for a single piece.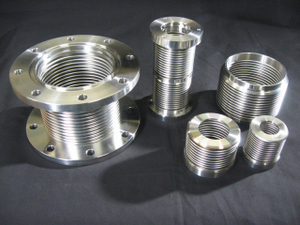 Metal bellows are ideal for a broad spectrum of applications including industrial and aerospace.
With Mitsumoto's unique forming and welding technology, it can manufacture the bellows with the inner diameter of 32 mm to 850 mm without making an additional die. Moreover its multi-layer bellows (up to 4 layers) features a low spring constant as well as superior performance under pressure and extremely low temperature.