Find out why and how presidents of MOBIO exhibitors started "INNOVATION and CHALLENGE" through the special interview. The latest "Meet the President" article is Mr. Ohigashi of DAIPLA CORPORATION.
- Injection molding products using super engineering plastics, Insert molding products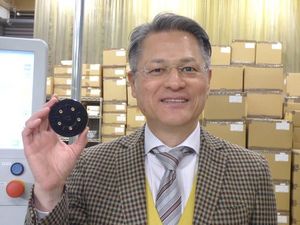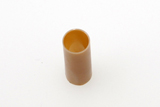 Left: Ohigashi holds an insert molding product
Right: A roller sleeve for 0.48mm thickness (made of super engineering plastic: PEEK)
●Developed technology to mold Super Engineering Plastics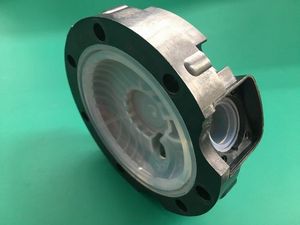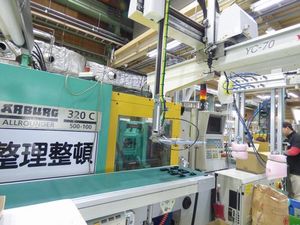 30 years ago, it was considered to be quite difficult to mold Super Engineering Plastics. When DAIPLA noticed needs to produce plastic sleeves that do not require lubrication although metal parts needed oiling for sliding property, DAIPLA has started to study new ways to process hard-to process material. Ohigashi said with a smile "When I went to the customer's place and showed the sample, saying "Here you are", the customer was very much amazed to notice. It was never expected."
Later on, demand for Super Engineering Plastics expanded to be mounted into equipment to carry LCD panels and into semiconductor manufacturing equipment. Further more it was required to develop new technology to develop insert molding products using super engineering plastics. Because DAIPLA has enough engeering expertise, it was possible to meet new requests to manufacture complex and precise components with insert molding technology. Knowing market trend Ohigashi further invested to install new and latest injection machines.
●Count HR as the most important factor for the company to become a " Good Company" in the region and for the employees
The worker took holidays and enjoyed. Corporate catch phrase is visible at stairs.

When Ohigashi visited Germany, one German worker said to him, "Well, instead ot working in a city I am receiving similar gains and benefit by working at my home town." It was totally new aspect to Ohigashi and he was very impressed as a corporate CEO. And then he has decided to prepare good working condition to allow longer paid holidays and corporate culture to enjoy holidays without hesitation. Moreover he sends young workers to learn European business style each year, that is unusual for the SME in Japan. That's why Ohigashi received 150 job application for two from openings.
Ohigashi's effort continues to become a GOOD company, not a simple BIG company.
--
Interviewed on January 9, 2019
Send your question or request from here to DAIPLA CORPORATION.