MOBIO is running OWO (On the Wing of Osaka) technology exhibition in the MOBIO Tech Hall as a November special display. On November 14, seven exhibitors explained their latest development in the MOBIO Cafe Meeting.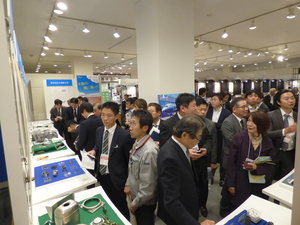 Developed nonferrous metal processing technology and processed titanium bolts
Developed silica coating method with three layers for aviation industry
Developed an automatic compression testing machine to measure elasticity and plasticity of bolts 
See you in the next MOBIO Cafe Meeting on November 26 and discuss on IT issues!