Three new exhibitors explained their latest technologies at MOBIO Cafe Meeting on August 23.
Participants listened to exhibitors' presentation on Highly Transparent Silicone Rubber Compound, Cationic Polyimide Electrodeposition Coating, Artificial Marble LED Light-Emitting Channel Letter Signage and etc.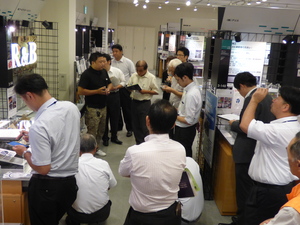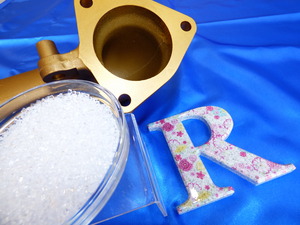 ・Inroducing crystal clear silicone: KOTEC CORPORATION 
Kotec is manufacturing high-quality compounding polycarbonate and PPS resins to be used for green products complying with EPEAT、RoHS regulations.
To meet rising demand from construction industry KOTEC is developing a new silicone compound of light proof, heat proof and cold resistance. Adding an exclusive additives, it is capable to produce highly transparent materials.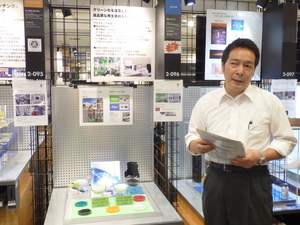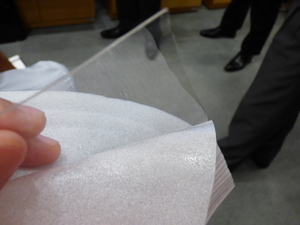 ・Heat-resistant, acid-resistant, insulating coating for every metals: SHIMIZU CO.,LTD.
Shimizu's process patented coating material, the world's first cationic polyimide electrodeposition coating, allows coating on the inside of pipes and to complex-shaped parts, as long as electricity flows and endures baking. Users can coat without clogging even in holes with a size of φ500μm at a thickness of 40μm, its material works to insulate electronics parts and to endure heat and acid for exhaust gas pipe of off-shore trucks. Because of cationic polyimide electrodeposition coating, it is applicable to every metals.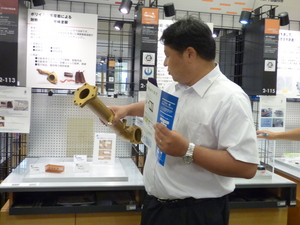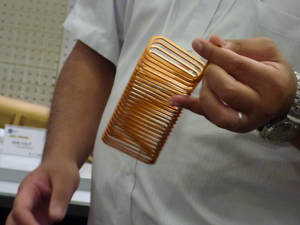 ・Lighting channel letter signage of an artificial marble: R&B Company CO., LTD.
Among signboard industry R&B is second to none of an artificial mable processing. Using numerical control routers and laser machines, it produces channel letters and engraves them from backside to fill in LED boards.
By combining artificial marble and acrylic with UV print, R&B Company can produce LED light emitting channel letters that have a fantastic impact at store front. Patents are pending for superior light-emitting technology for resin and artificial marble.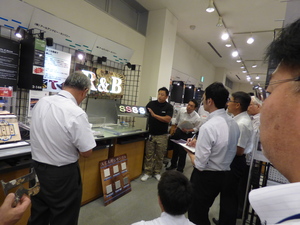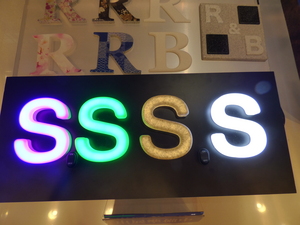 -
MOBIO Cafe Meeting is interactive type. Participants discussed technologies and application ideas off the Tech hall.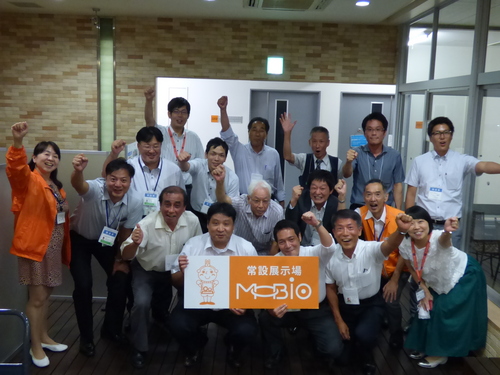 -
Coming up the next MOBIO Cafe Meeting on September 28. Drop by MOBIO to meet Tsuyama City companies and study their technologies to process stainless steel items.
Date: July 11 (Tue) 18:00 though 20:00