Seven companies from Team MOBIO explained their technologies and updated visitors' communication following to Tokyo M-Tech trade fair in June. In the MOBIO Tech Hall they are running special display till August 25.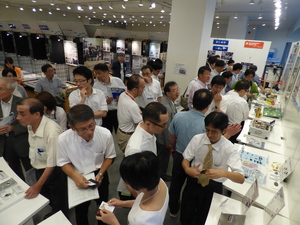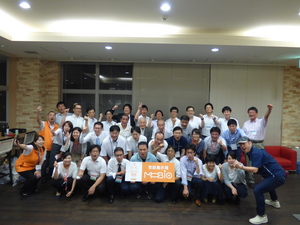 -
・YASHIMA DENGYO CO., LTD.:Large Lithium Batteries for AGV
Started by English presentation to explain its braod battery range from electric reel batteries with 60% market share to AGV (Automated Guided Vehicles). The new products is a drone for pesticide spraying with a 10 liter container.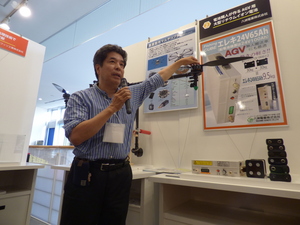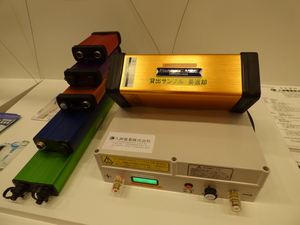 ・SANGO METAL INDUSTRIAL CO., LTD.:Thin plate laser welding
A picture‐story show type presentation. The lassr welding specialist connects two thin plates (0.2mm) without any penetration and applies its tech to weld lead terminals to coin cells. They can weld 0.1mm thick SUS plate to coffee can without any leakage.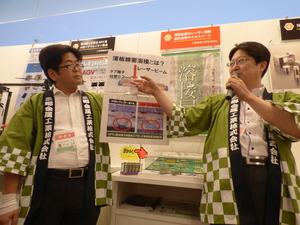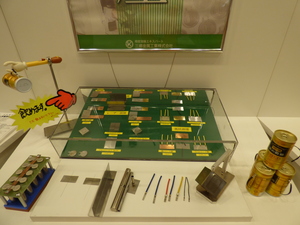 ・MURAKAMI KOKI CO., LTD.:Having a balance weight is the step one to measure correctly.
The ONLY 1 manufacturer of mechanical balance in Japan to certify business transaction. Its weight is made of metal bars by in-house machining process. So it is one of a few companies to make special shape weight. New type is of Titanium at 0.5g,0.1g, etc for an electronic balance。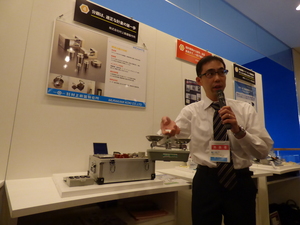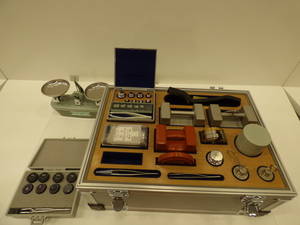 ・KYOEI DIECASTING CO., LTD. : Integrated dicasting system from design to mass production
Because diecasted products are widely used in industries, they must fit to verious needs. That's why Kyoei runs a one flow system internally to reduce delivery schedule and to control quality.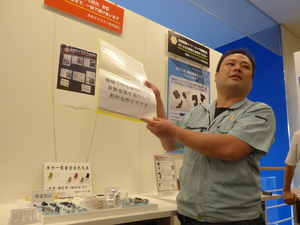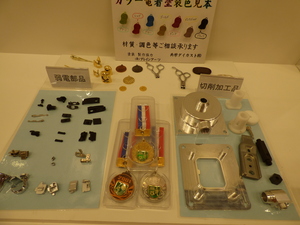 ・KOYO ENGINEERING CO., LTD.:Developing metal compenents for angular adjusting and locking mechanism
Its ratchet gears using "wedge principle locking function" are widely used at recliners. The new product・T- Lock gear allows to turn either ways and fix with a push of a button.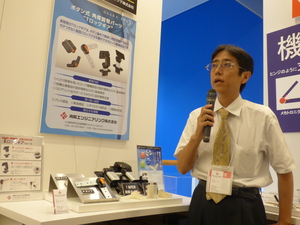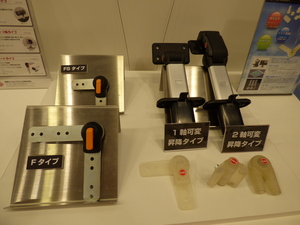 ・SIMOTEC CO., LTD.:Module of three technologies (Mechatronics, Magnets, Thermal)

It operates in three business fiield, mechatronics such as hinges, magnetic parts like door closer and thermal parts like heat pipe to transfer heat. The new product "highly responsive displacement sensor" is to detect paper double feeding in printing, that drastically reduces electric power consumption and production cost.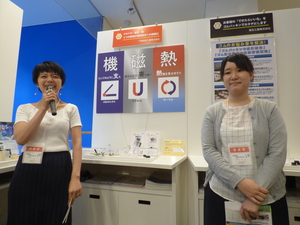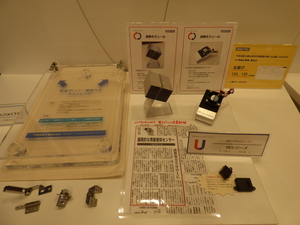 ・TAKAISHI-INDUSTRY CO., LTD.:Form ideal rubber O-rings
It is specialized in gasket manufacturing from product desing to mass production to prevent leakage of water, gas or oil and runs material evaluation test. It runs preproduction by using actual dies to provide accuracy as same as full scale production. One of its material evaluation resulted in O ring developed for Hydrogen station.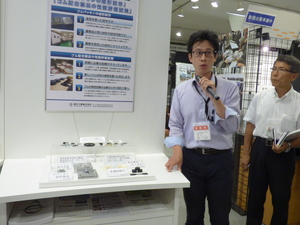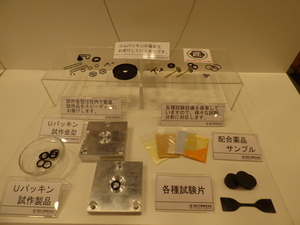 **
"Osaka's Tech Surprise" exhibition runs till August 30 in the MOBIO Tech Hall.