Technology presentation on March 24 was conducted by three new exhibitors. Though glass-fiber, stone and paper were not so familiar materials for most participants, processing technolgy was impressive to them.
-
Glass Fiber Tapes for parking lot line marking or tennis court line marking
The tape-type "Boo-boo Line" can be easily used to draw clear lines on to any places such as old asphalt road, gravel road, and grass road. It is durable against rapid start or sudden stop of cars in the parking lot. Using scissors the tape can be cut to suitable length for the parking line and be drawn without relocating cars in the parking lot.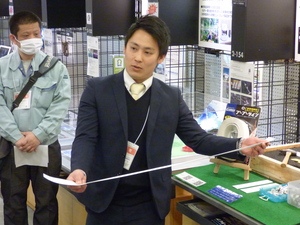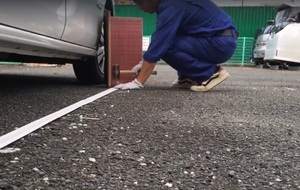 "Fantoni", original three-dimensional engraving
A dynamic stereoscopic effect is created through this engraving that adds irregularities to the design by "Fantoni". Shadows on the stone are clear, making it unnecessary to add coloring to the engraving surface.
By its exclusive designer the display artwork in the MOBIO Tech Hall has been created from three stone types; Greek, Chinese and Japanese.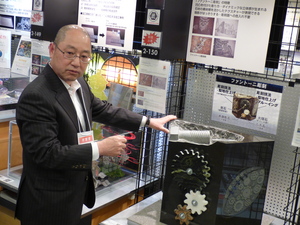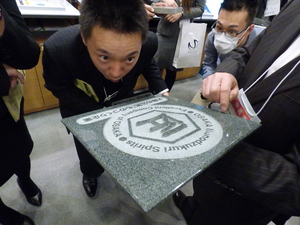 Dieboards for corrugated board and cardboard, Diecut accessories
It has proven track record in diemaking for over 45 years to have improved the productivity of diecutting, stripping and blanking at the age of high speed and high precision processing of packages.
Accessories needed for diecutting of packages. Its "G-Tape" creasing matrix improves folding accuracy.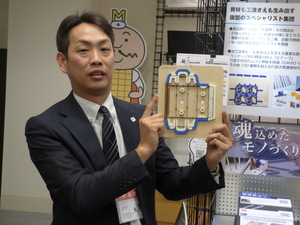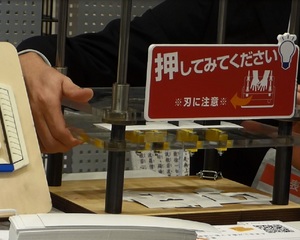 ***