The cross-industry meeting in the MOBIO Tech Hall is filled with topics.
On December 1, four companies and a local government from Kyushu territory explained their state-of-the-art technologies and administrative assistance program at their booths. Northern Kyushu in Japan, including Fukuoka Prefecture, has become one of the leading automobile producing areas in the world.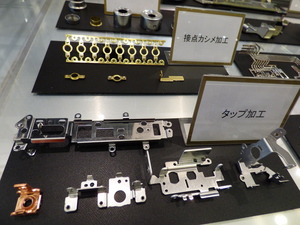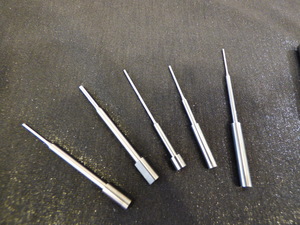 (L)Takayama Press Mfg. Co. Ltd.
(R)Works Co., Ltd.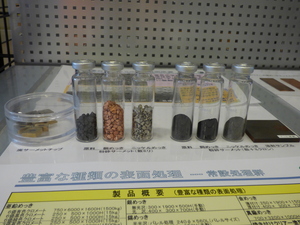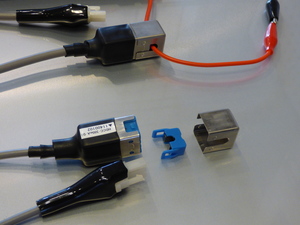 (L)Kyushudenka Co., Ltd.
(R)Hohkohsya Co., Ltd.
-
 *Create Small Components and Big Future by Technology
 *Precision Press Components, Precision Pressing Dies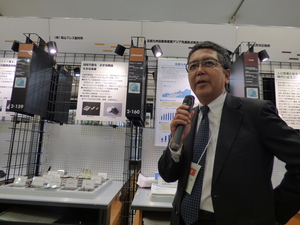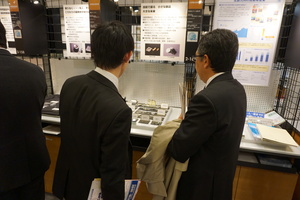 Takayama designs and manufactures a composit pressing die to provide stamping and a little something extra. Beside stamping it is possible to swage electrical connecters, screw a tap and more inside the die. Takayama is proactive to study and propose an improved manufacturing process (stamping work from machinning work). Additionally it has anintegrated in-house operation flow of precision parts with high quality by use of exclusive inspection machines.
 *Unlimited Spherical and Plane
 *Ultraprecision Machining with High Quality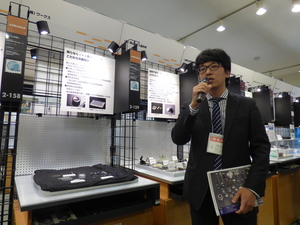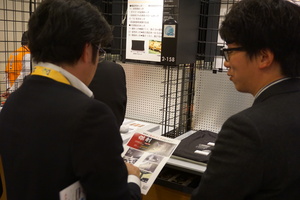 Works has developed an exclusive machining technology to manufacture an ultra precision mold for a small-sized lens with an accuracy of 1 μm or smaller at roundness, cylindricity and squareness. It also core pins and other components for ultra precision molds, including ultra fine pins with only 30 μm thickness at its end, that attartcs market attention.
 *Privide Shine Plating from Kyushu
 *Plating and Surface Treatment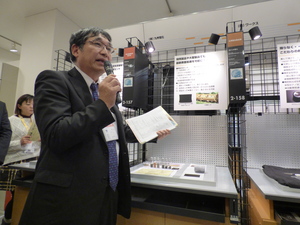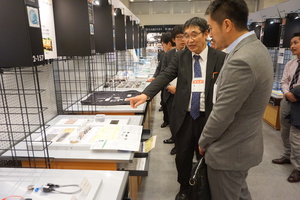 One of specialities of Kyushudenka is its capability to plate large sized items. It processes copper plating on 2M steel pipes, galvanizing construction items at 6M tank or brass plating at 3M tank. Other than black plating without any light reflection, Kyushu has more engineering technology, such as copper plating on glasses to prevent from light or plating with metal power of recycled products to improvewear resistance.
*Developing Next Generation Products based on PCB Tech.
*The Greatest Accurate DC Sensor at Small and Lightweight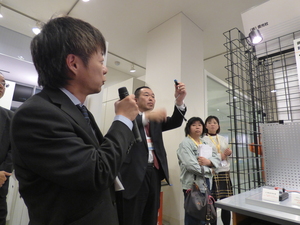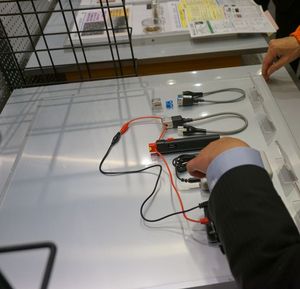 Hohkohsya has developed a noncontact senso, capable of detecting a feeble direct current, that can be easily installed later without cutting wires. It has manufactured two type sensors; a DC sensor to detect a absolute value of rotation speed of wheels and engines, a puls sensor to inspect output signals from an electric power meter.
●Northern Kyushu Automobile Industry Asia Advanced Base Promotion Office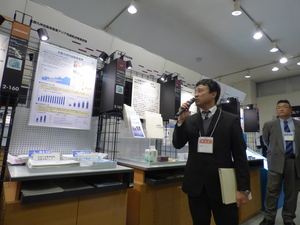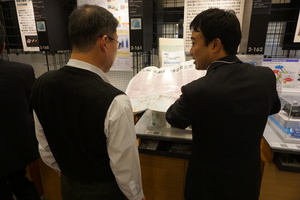 The office manager explained its ongoing projects to achieve the goals listed below.
*Goals
Accumulation of Competitive Companies
Development of Automobiles that Lead the Asian Region / Establishment of Production Base
Establishing a Base to Propose a New Form of Automobile Company and Send Out Other Ideas to the Asian Regions
Accumulation of Advanced Human Resources of Automobile Industry / Formation of Exchange Base