Find out why and how presidents of MOBIO exhibitors started "INNOVATION and CHALLENGE" through the special interview.
"Meet the President" No.54 is Mr. Sasaki of SASAKI CHEMICAL CO.,LTD. (More info.)
- Chemical polishing solution, Oxide film remover, Stripping solution
Basic Business Principle - Problem Solving
Since its foundation, it is the Sasaki's everlasting business principle to search for potential demand in a market and to relieve manufacturing difficulties from operators.

Therefore an "S-Clean" product line, neutral rust remover, was developed to avoid product damage without using a toxic substance, such as hydrochloric acid or nitric acid.
Sasaki said, "We have improved its efficiency several times to be used for electronic components for LCD TVs when it was mainstream of TV business. Now it is widely used for solar cell components. At each manufacturing site, customers appreciate its neutrality because it is much easier to manipulate."
SJ-Gel Won "2016 New Selection in Kansai" by MITI, Japan
Since Sasaki was assigned as a CEO, he paid his attention to develop new products, new services and expansion of branded products. One of new products is an oxide film remover "S-PURE SJ-Gel", designed to respond to voices from welding workshops who wanted to solve problems in water quality and environment.
"Is they any oxide film remover that does not contain nitric acid and phosphorus to solve effluent problem?" was requested by welding operators to Sasaki. Sasaki decided to start a product development. In order to apply its remover to more locations and to reduce effluent problem, Sasaki's engineering team struggled to develop a gel type remover.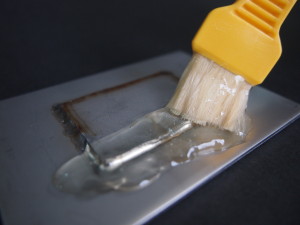 The team came to a rough idea to create a new remover by using chloride-based chemicals without using poisonous substances, however it took three years for the team to find out the best compounding mix. When a SJ-Gel was released in 2012, it was well accepted by welders owing to its convenience of brushing and feasible reduction of drainage problem.
Sasaki said "I have requested a public research institute to analyze metal surface condition after removing an oxide film caused by welding. And it was proved SJ-Gel created a protective film on metal surface that has durability more than equal to treatment result by popular nitric hydrofluoric acid. Such an official proof assisted SJ-Gel to promote its outstanding technology and resulted in "2016 New Selection in Kansai" by MITI (Ministry of Economy, Trade and Industry, Japan).

Because it is not poisonous substance, it can be distributed through online selling system. To penetrate such distribution, Sasaki developed three types to have established new business market. Especially 300g type is widely appreciated by small welding factories and has been selected by more than 60 on-line business companies as a hot seller.
An alchemist style manufacturing
Sasaki describes his company as "an alchemist style chemicals manufacturer", that means Sasaki has invented series of epoch-making products by compounding pharmaceutical and different material effectively. Instead of setting up major production system, as an SME, Sasaki has established high-mix low-volume production system, that effectively maneuvers to fit a market need.



"Dry-Keep" is a patented and popular product, created through such a chemical compounding technology in 1989, by kneading hygroscopic agent in a plastic resign. It is possible to form "moisture absorbing" bags and containers to package valuable medicines and foods because "Dry-Keep" application does not require any drying silica gel. It reduces material consumption and extends product life-span and awarded by Kyoto Eco-Style Product in 2015.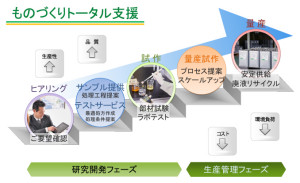 Taking command of a corps in a battle, Sasaki is tackling another object. Sasaki said, "Since a corporate foundation Sasaki has worked in a pharmaceutical market, now we would like to enter a new market. Expanding our business domain in a science category, I wish to put in place a new business framework that can meet the needs of the times, such as to provide services to improve manufacturing productivity, to develop eco and human friendly technology and etc."
--
Interviewed on March 17, 2016