MOBIO Cafe Meeting on March 16 was Technology presentation by exhibitors at a March special display on "Prepare for emergency by new products". It was another step forward to develop new business among participating parties. MOBIO Café Meeting is a cross-industry gathering, held twice a month. It offers opportunity to participants asking any questions freely.
<Presentation and Discussion>
●Chain stairs for evacuation to higher elevation
MATSUMORA INDUSTRY CO., LTD. (Read corp. details)
Due to the special structure, safe and stable stairs can be easily installed at low cost on steep slopes not by specialists during a short period. The stairs are ideal for forest conservation work sites because they can be easily installed and removed.
● A pinpoint earthquake warning system
ISAAC CO., LTD.
A device automatically transmit warning signals before an earthquake hit the specific site, by receiving data from Japan Meteorological Agency to calculate the expected arrival time and the seismic intensity based on registered latitude, longitude and soil hardness.
●A knock-down type storage box with a palette
ADF CO., LTD.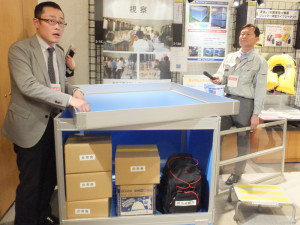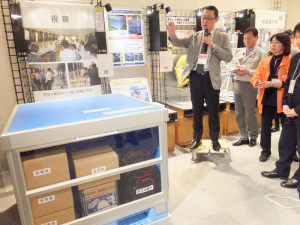 An aluminium frame storage box can be easily assembled, stacked up to four high and is accessible to a cargo in a bottom box due to a detachable front cover. It meets the sanitation control standard code such as HACCP.
●Solar cell powered LED guidance sign
ECO FUTURE CO., LTD.
An unit has three advantages to be used in the night. They are 1)Solar cells covered an entire inner surface 2)Using popular rechargeable batteries for easier maintenance 3) No power wiring required.
●A rescue stretcher to be handled by three citizens
KISHO CO., LTD.
A portable stretcher is light weight (2 kgs) and equipped with a shoulder strap for easier handling by senior citizens. Its structure helps maneuvering the stretcher even at stairs, that was hard to handle by bar stretchers.
●Luminous type evacuation guidance sign
CODOMO ENERGY CO., LTD.
Even when there were no electricity, a luminous type evacuation guidance sign is visible in the dark. Because it is composed of ceramics and luminous materials, it brightens longer, is durable and heat resistant without any maintenance work.
●Portable water purification system
JTOP CO., LTD.
At homes or shelters, its device purifies river water or lake water to provide with a colorless, odorless and transparent water abundantly. The company helps recycle its carbon content to reactivate by super heated steam
●Emergency LED panel guide
TSUKUSHI CRAFTS CO., LTD.
It is a guidance panel made of corrugated card board building materials and LED, lasting three hours at a power failure. Normally it is a normal sign board and will be switched to show evacuating guidance sign. It is economical at a self standing structure and can be used at shelters.
●A two-in-one life vest
NEST JAPAN CO., LTD.
It is a convenient life-saving product, combined a bag pack and a life vest. Detecting water its shoulder strap automatically expands to be used as a float and items stored in the back pack is easily taken out.
●A waterstop CFRP board
NOMURA FOUR C'S CO., LTD.
Because a board is made of CFRP, its weight (13 kgs) is 1/3 comparing to prevailing aluminum type, to be handled by one person. It is stronger, more rigid and possible to install immediately at an underground space entrance with a one-touch connection.
●A clear body fire extinguisher
HATSUTA SEISAKUSHO CO., LTD.
A stored pressure type fire extinguisher with transparent plastic body is the first in the world. It has a soft touch, is light weight (4 kgs vs. 5 kgs./conventional type) and easy for senior citizens and children.
<Off the Tech Hall>
Frank discussion continued overtime and participants were relaxed and enjoyed their free time as much as possible. We, at MOBIO, really look forward to collaborate with participants all the year round.
******
The next MOBIO Cafe Meeting will be hosted on March 23 by exhibitors and is the 100th anniversary session. Read on for details and register participation in advance from here!