MOBIO Cafe Meeting on February 2 was Technology presentation on by 12 companies from "Kansai New Selection 2016″ exhibition.
It was another step forward to develop new business among participating parties. February special exhibition runs till February 29 displayed by 20 companies.
MOBIO Café Meeting is a cross-industry gathering. It offers opportunity to participants asking any questions freely. If you have any request or questions to presenters, please send it to MOBIO (Click here).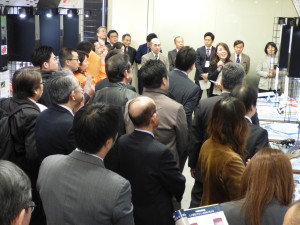 <Presentation and Discussion>
1) Welding burnt removal agent for SUS / SASAKI CHEMICAL CO.,LTD. (Read more)
"S-PURE SJ-Gel" is the Oxide Film Remover on stainless steel. It comes by soft or hard gel form without fluorine contents and reduces waste liquid treatment cost.
2) Tapping screw for thin plate / YAMASHINA CO., LTD.
Its screw, Thinca, binds thin steel plates very tightly without any burring or nuts, and assist product miniaturization at reduced cost.
3) Air-heat transfer system / NAVITAS CO., LTD.
NATS, Navitas Air - heat Transfer System, only transfers design printed on the film to products instead of hydraulic transfer system and decorative area drastically.
4) Hybrid low-temperature surface treatment / ASAHI HEAT TREATMENT CO., LTD.
By hybrid and low temperature carburizing processing technology, it prolongs the product life of stainless steel part and achieves energy savings.
5) Water saving nozzles / DG TAKANO CO., LTD.
Its water saving nozzle, Bubble 90, is the only nozzle that creates pulsating flow without using electricity and saves water consumption up to 90% of washing away.
6) Sunshine reflection sheet / KOIZUMI JUTE MILLS LTD.
Its "Shiro Pika" reflects and insulates sunshine with high efficiency, that attracts high attention from farming industry.
7) Thin wall injection molding / ASKA COMPANY LTD.
ASKA is the specialist to produce thin wall injected products by using exclusive measuring devices, starting from planning to mass production.
8) Electrically powered bed / SEAHONENCE INC.
Its electrically powered bed for in‐home care, Sai, has been designed to position for preventing patients from aspiration and for allowing nurses oral care easily.
9) Nano metal particle ink jet printer and ink / KISHU GIKEN KOGYO CO.,LTD.
Utilizing technology of ink jet printer head and nano particle metal ink, KISHU has developed ink jet printer device and exclusive ink to provide stable ejection and excellent depiction.
10) Chamfer dimension inspection machine / MARUNOUCHI MACHINERY CO., LTD.
Its high speed and highly accurate measuring equipment measures radial chamfer dimension (inside or outside) without any contact to products easily and stores image data with figures.
11) Food transfer pump unit / HEISHIN LTD.
The first in the industry! Its exclusive screw pump detects magnetized rubber debris during food transportation if there is any from the rubber pump unit.
12) Vacuum fryer / ATLAS TECHNO SERVICE CO., LTD.
The compact vacuum fryer is good for food processing factory to preserve food for a long time, installed patented oil filtering system.
<Off the Tech Hall>
Frank discussion continued overtime and the meeting finished with smiles of the participants.
******
The next MOBIO Cafe Meeting will be hosted on February 17 by three exhibitors.
Read on for details and register participation in advance from here!
1) KAWASO TEXCEL CO., LTD.
Ceramic-Metalized technology
2) SKB CO., LTD.
Well-Assorted & Selectable Doorstops
3) SUGI QUALITY INDUSTRY CO. LTD.
Laser processing of pipes and irregularly shaped materials