MOBIO Café Meeting is an interactive session. It offers opportunities to participants asking any questions freely. On August 20 following to exhibitor's explanation, participants started questions and provided suggestions in the MOBIO Tech Hall and in the canteen.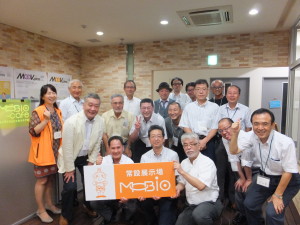 * Because it is operated manually...
MEIKO MACHINE CO., LTD. (Read on for details)
The manual rotating tool "Sarae Maru" was developed for in-house usage at MEIKO MACHINE for finish touching after MC machining and other mechanical operation. Just install it to the table next to the machine, an operator is capable to make the finish while waiting for machine operation. Because an user feels things such as shaving and reaming work with his or her own hands, it is so convenient and is now on sale for the public customers
* "Un-PANDA" means...
Nihon DSP Limited Company (Read on for details)
By the principle of lever, switching between adjusters and casters takes no effort even for heavy equipment. The integrated unit is essential wherever relocation of equipment is unavoidable, providing safety and reliability at cellular manufacturing system or high-mix low-volume production system. It is named "UNPANda" taking after Japanese UNPAN (transportation).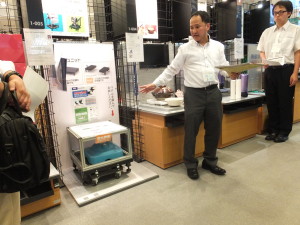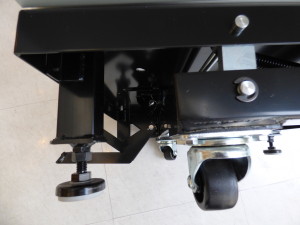 * Pirates work in Japan ...
JAPAN ENGINE VALVE MFG.CO.,LTD. (Read on for details)
Engine valves with DOKURO brand are used at more than 70 countries. They assist Japanese cars to run continuously at the desert in Saudi Arabia and at the mountains in Guatemala as transportation life line. DOKURO means a skull in Japanese and had been used by pirates. Now for Japanese market DOKURO is responding to needs of racing cars to tune- up and classic cars to reactivate.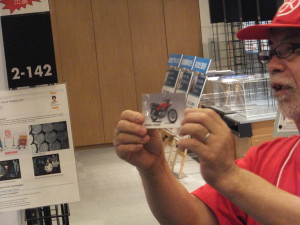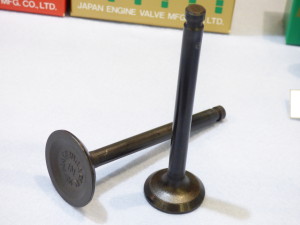 * Foresee future in a craftsman's bones and ...
SUGINO RUBBER CHEMICAL INDUSTRIES CO., LTD. (Read on for details)
Power companies needed compact rubber covers at joints of high voltage underground power cable. The world leading rubber companies had tried to develop it for three years and failed, however SUGINO could have developed it just in a year. The difference came from usage of the sixth sense of Japanese craftsman to create future plan and action from market voices.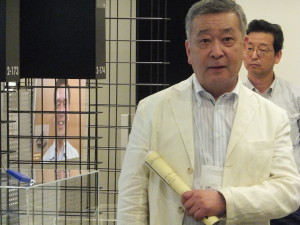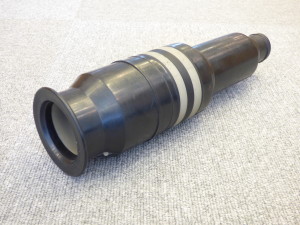 ******
The next MOBIO Cafe Meeting will be hosted on Sep. 4 by companies from Toyota city and Fukushima pref.
exhibition in Sep.