The meeting started from test driving of the EV Car and the Power-Assisted Tricycle informing another technology by Tohoku companies.
The car kit consisted of 100 parts The cargo cart at factory site
Following to test run, 12 companies participated in Tohoku Special Exhibition explained their technology to companies in Osaka.
◆◇ Tohoku Companies ◆◇
<Part I> Presentation
1. Ishimura Industry Co., Ltd.: Iron Stove
Using wood pellet it burns more than eight hours without emitting a streak of smoke due to pyrolysis gasification.
2. Eiwa Corporation: New Cobalt Alloy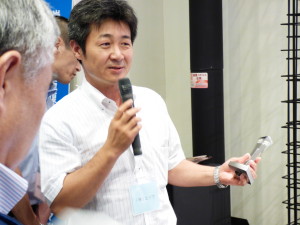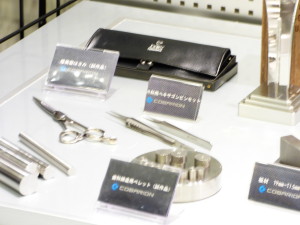 Cobarion, the new cobalt-chromium alloy, shows superiority at is abrasion resistance property.
3. Fe-Nix Corporation: Large Iron Bolts
Hot forged special large bolts to be used as anchor bolts for fish farms and improvement works of port facilities.
4. Yamagishi Industry: Hybrid Emergency Generators
Hybrid Emergency Generators to be operated by gas and/or LPG as power back up.
5. OIGEN Foundry Co., Ltd: Cast Iron Pans
Bare iron pan, "NakedPan ", to be free from chemical materials
6. Sasaki Print Ltd.: Mount-Sheet-Less Seal Label
Non-board labels and joint labels to save paper materials
7. MODI Corporation: Electric Model Car
The electric model car kit to study next‐generation vehicle parts at colleges and institutions.
8. Aizu Kojyo Co.Ltd.: H-Process Casting System
Horizontal controlled flow pouring process to result in thin-wall and light weight parts
9. Tamagawa Engineering Co., Ltd.: Radio Frequency Heating Apparatus
The Compact radio frequency heating apparatus
10. TOHOKU RHYTHM Co., Ltd.: Plastic Injection Mold
Precision Parts to be installed in watches and cameras
11. JUKI AIZU CORPORATION: Lost Wax Casting
Metallic powder injection molding and lost wax casting process
12. AKATSUKI-SEIKI CO.,LTD.: Machining and Heat Treatment
Lathe cutting of high hardness steel
<Part II Gathering>
All participants were energetic at the cross-industry meeting. Through open discussion over drinks close tie was created between Tohoku and Osaka.
*********
Special exhibition continues till August 28. Drop by MOBIO to find technology born in Tohoku!