MOBIO Cafe Meeting is an interactive session. It offers opportunities to participants asking any questions freely. As same as previous Cafe Meeting, on June 3 whenever technology was explained by the exhibitors, a lot of suggestion and question were mentioned by participants. Participants enjoyed the first outdoor product demonstration and noticed its performance. Discussion continued in a canteen session.
<Part One - Technology Presentation>
1) Outdoor Dry Mist Humidifier
OHMIYA CO., LTD. (Read on to find details)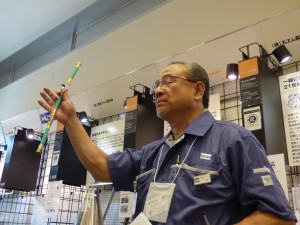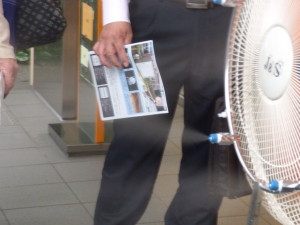 Developed through OHMIYA's long manufacturing experience of metal spray nozzle, the outdoor humidifier, called "COOL BEAM", is equipped with their exclusive nozzles and emits dry dew (20 to 30 micron drops) to decrease surrounding temperature by 2 to 4 centigrade. Actual operation was condcuted outside as the first time demonstration at MOBIO Cafe Meeting.
2) Automatic Press Monitoring Device
RIKEN KEIKI NARA Mfg.CO., LTD. (Read on to find details)
By using their device, monitoring of the bottom dead center and press slug detection at the accuracy of 0.1μm, the press operator can avoid outflow of defective parts and prevent die damage caused by slug coming up during transfer press operations. Their precision proximity sensors have been originally developed and equipped with the detector.
3) Oral Massage Brushing
DENTALPRO CO., LTD. (Read on to find details)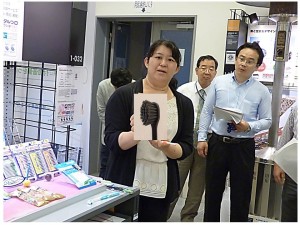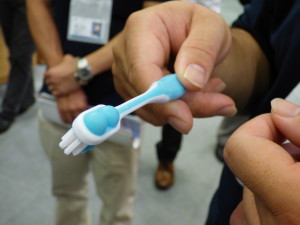 Adopting "fun" and "fashionable" for oral product development, DENTALPRO released the new toothbrush, called "COSME" brush. It has humps at the brush top, that works to massage a cheek from inside while brushing and prevent nasolabial fold. And "Black Series" with special bristle(PCC bristle) was explained as well, which has excellent performance in plaque removal.
<Part Two - Inter-industry Communication>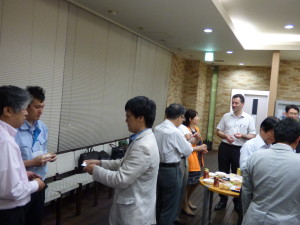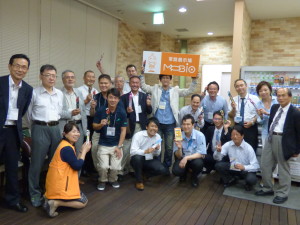 Following to business card exchange, participants started individual communication, "Can you elaborate that technology?", "Can you process in this way?", "Oh, you have such a technology!" or "Is your technology applicable to this products?" At MOBIO Cafe Meeting participants talk each other quite frankly as the initial step for future business.
******
Coming up the next MOBIO Cafe Meeting
Date: June 17
Time: Starting 18:00 at MOBIO Tech. Hall (Read on to find details and to register)
Scheduled Presenters:
1) TENKING CO., LTD. -- Precision Metal Parts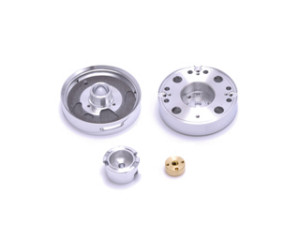 2) HATTA KOGYO CO., LTD. -- Vacuum Heat-Treatment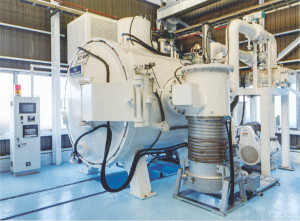 3) MARUEMU WORKS CO., LTD. -- Stainless Steel Bolts & Orthodontic Wire