MOBIO booth No. : North facility 2nd floor 173
MINATO PLATING CO., LTD.
Product line
On-site plating repair
Plating repair of western tableware and silverware
Description of business
Minato Plating has two core businesses: On-site high-speed partial plating/overlay repair and silver-plating repair of western tableware. In particular, "on-site repairs" that use the SIFCO process, which does not require a plating tank, is a rare service in Japan. Minato offers excellent techniques to repair necessary parts on-site without disassembling even large machinery and equipment.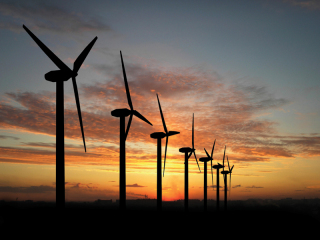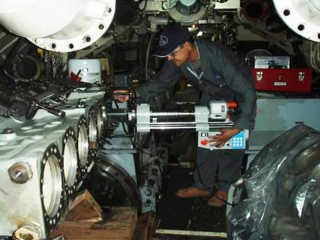 Products and Technologies
Plating tanks are not required! Plating repair can be performed on-site !
Minato Plating's technology can be utilized in these areas.
・Partial plating repair and overlay processing of large equipment and facilities
・Various types of plating processing on-site, where necessary (Alloy overlay such as Ni-W, custom-made processing in a range of μm to mm)
・Adjustment of dimensions miscalculated in the manufacturing process
・Repairs of cracks and dents in large rolls and shafts, etc.
・Partial repair of special and large molds (filling holes, repairing cracks, etc.)
・Improvement of heat resistance, abrasion resistance, corrosion resistance, etc. for large equipment

Minato offers new functions and value in maintenance!
What are the benefits of on-site plating repair?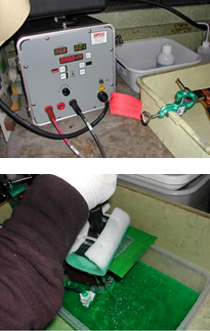 ● High-speed partial plating
By bringing a small rectifier on-site, plating with various coatings of a specified thickness can be performed on necessary parts.

● Features
・Precise control of coating thickness for plating in a range of μm to mm
・Various metal films, such as Ni, Ni-W, Au, Ag, Co, Cd, etc., can be plated on various materials.
・Unlike welding/spraying, there is no thermal strain on the base metal
・It is difficult for cracks to form even on mm-thick plating film
・It has been certified for various specifications, such as Boeing and MIL, and has an application range that is wider than other overlays.
60-year history in silverware and plating repair!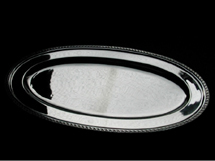 ● Silver-plating repair of metallic tableware for hotels and restaurants
Minato offers plating repair of silverware that has scratched and faded due to long-term use. Utilizing Japan's top-class polishing technology for more than 60 years, the surface of silverware will be as good as new and will bring back the shine in the banquet hall.

● Large luster silver-plating tank (2,000 L)
Various sizes of thick, glossy types of silver plating can be performed using this tank, such as silver plating for silverware, as well as silver plating on large bus bars, silver plating on large engravings, etc.
Corporate Profile
Corporate name

MINATO PLATING CO., LTD.

Address

4-49-1, Higashi Yotsugi, Katsushika-ku,Tokyo, 124-0014, Japan

President

Katsuji Taguchi

Established

1950

Phone

+81-3-3696-3731

Fax

+81-3-3696-8845

Company URL

Japanese (http://mm-ag.jp)

Capital

5,000,000 yen